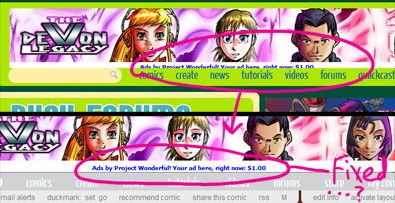 HEY there DD people!
We need some assistance to tweek our CSS positioning.
As you might know, we took the spammy ads off of DD and replaced them with Project Wonderful ads for now instead, so it would be more in keeping with our site, help us promote creative stuff, and not drive people away with that nastiness that the former virally/malware ads brought.

BUT, the bidding text on the top banner add didn't quite fit, so it made it hard to bid on. JNP has finally fixed that, but that's pushed all the other page elements down as a consequence. The top navigation bar covers comic banners and titles, as you see from the pic.
JNP asks your help to find all instances of CSS positioning code that need to be fixed in order to move all content down a bit so everything fits on the page correctly.

Here's a link to the CSS code: http://justnopoint.com/drunkduck/comicpage.txt

So far the PW ads have done ok. They raised half the cost of hosting the site on Linode for the month. Hopeully with the positioning fixed they will be able to earn more money.