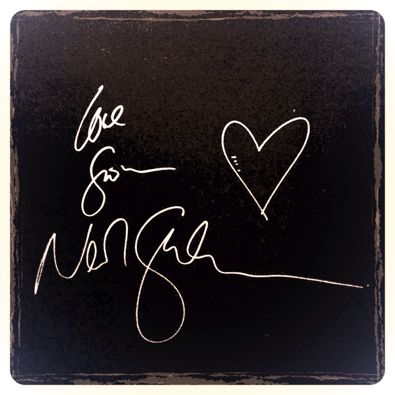 It had been years since I donned my black cocktail dress to spend an evening listening to one of my favorite writers, and that is exactly what I did on Saturday night. The scene was set in Long Beach at the Carpenter Performing Arts Center and I was excitedly waiting with anticipation to see Neil Gaiman speak for the first time.

Watching a lecture by a favorite writer is an experience nothing short of uplifting and inspirational. The first time I ever sat in for a writer's lecture was in 1998 when I listened to Ray Bradbury talk at a local library. That event was the key reason that I delved into the Martian Chronicles, associated October thirty-first with "The Halloween Tree", and fell asleep under the bed sheets pouring over The October Country during high school. It was the reason I decided to spend my birthday this year visiting Ray Bradbury at his final resting place at the Westwood Village Memorial Park Cemetery last week to thank him for his literary contributions that have changed my life. That is why it caught me by surprise when Neil Gaiman brought up his old friend, Ray Bradbury, and dedicated an entire reading of "The Man Who Forgot Ray Bradbury" to his memory.

In the comic book world, Neil Gaiman is best known for his work on The Sandman series. He really stretched the boundaries of the potential that comic books could achieve in the 1990s. His stories are dark and somewhat disturbing, but one would not expect anything less from a fellow Scorpio.

As the evening progressed, Gaiman shared some personal anecdotes, read excerpts from his published works, and even gave his insight on the horrific and tragic events taking place in other parts of the world. Writers are lovers of words and he was able to express a great range of feelings and condense them into a succinct passage that could be universally accepted. I left feeling emotional and contented that it was exactly where I needed to be that night.


SECRET SANTA 2015

Please sign-up for this year's Secret Santa. HippieVan is gathering participants for this year's drawing exchange. Sign-ups are due by December 1, 2015.

Link: http://theduckwebcomics.com/forum/topic/177384/


.::.
What's Quacking?
Do you have any original art to contribute to our stock image database, announcements, community projects, ideas, news, or milestones to report? Please leave general comments below or send a PQ to kawaiidaigakusei. Email me at kawaiidaigakusei(at)gmail(dot)com.