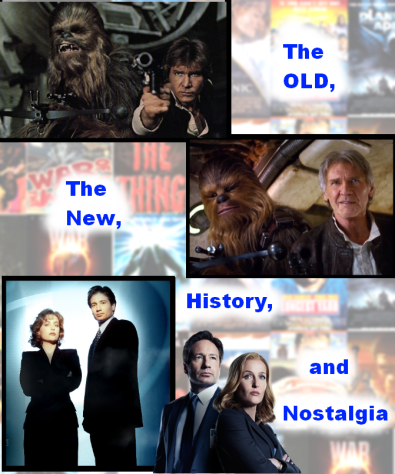 Pop culture is being visited by its own past. There's no denying the excitement surrounding the reappearance of the original Star Wars and X-Files characters after an absence of years.

We all know our mainstream entertainment is stuffed with more and more sequels, remakes, reboots, soft reboots, reimaginings, reintegrated adaptations, adapted reintegrations, and…anitquated…reconstructions.

But is that so bad?
Well, yeah. Sometimes it blows. I've been around long enough to have seen beloved, or even just cool, movies from my past made into dull, either too-silly or more often too-serious, joyless reissues.

I blame the glut of lackluster remakes for the emotionally and spiritually dead husk I've become.



enh, I didn't even see the original. And as much as I loved the book, the remake was enjoyable. This is just for purposes of illustration, y'know?

Seriously though, it could be just age, or a busy schedule, but I've changed from someone who excitedly saw many new releases to someone who skips practically everything. Granted, this is a necessity in a way; there are way too many movies being released to keep up with, and that glorious Internet to keep us VERY busy in the meantime.

But still…these crappy remakes! Oy Gevalt!

Maybe sometimes recycling has value. Some characters can transcend the age they were created in, and speak in deep, Universal ways to several different generations. Witness the massive popularity of Super Hero flicks! These are modern Myths that deserve (sometimes) to be updated and brought to new audiences!




I was surprised at how much time had gone by since the first Jurassic Park movie - I wouldn't have thought we needed a remake, but the thing was a smash hit, and personally I thought it was a blast! It was a big, fun, popcorn-blockbuster, and the nostalgia was a bonus. It was a nice feeling to revisit that world!



The more things change…

I guess all I really hope for is that the revisitations are taken seriously. And I don't mean dark, gritty, and joyless. I mean that someone is behind the wheel of these projects who cares about what they're doing, and is not just operating from "the profit potential of brand recognition" or something.

Nostalgia has been described as a negative. It can be an unhealthy place to dwell in too much in life…and it can distort our memories of the stories we loved and create unrealistic expectations.

But the great thing about it is the feeling of weight. Of history that comes with seeing a middle aged Mulder and Scully, or a past-middle age Han Solo, when they've been away from us for so long.
This is powerful stuff as far as I'm concerned. An older character with more miles behind them has a naturally more compelling presence.

In my own comic, I'm pleased to be at a point where the characters have a tiny bit of history behind them. It sets the stage for more interesting, more emotional (not necessarily SAD, but more emotional) stories.