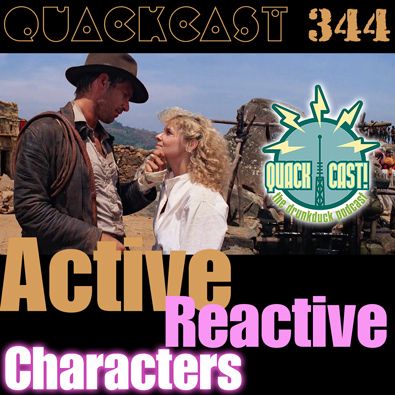 LISTEN!

Some characters are active and others are reactive. Reactive characters mostly only react to things rather than make them happen so they can be very boring if not done right! Active characters are the ones that drive events by doing things and making stuff happen, these characters grab your interest. This idea was based on Tantz's fantastic newspost, we talk it out, coming up with some good examples of each character type. Our epiphany for this Quackcast was that if you want a "strong" female character what you REALLY want is an "active" female character. The mistake people made with the trope was that they thought the female character had to be either a main character or a kick-arse masculine style character, when in reality neither is required. Make your character "active"; making decisions, causing things to happen, having an impact, causing OTHER characters to react etc and they will be a "strong" character. She could be a minor character who never lifts a sword or fires a gun but still be the strongest character in the story if she's the most active. ;)

This week Gunwallce has given us the theme to Boys Land - This one surprises you, sneaking up with a gentle beginning, then it hits like a bomb bursts of rainbows and warm breezes! Beautifully, the same tune is repeated in many different forms, there's even a bit of Primus type bass in there. It finishes as it begins, with a gentle acoustic guitar.

Topics and shownotes

Featured comic:
Lexi's Fight Against the Dead - http://www.theduckwebcomics.com/Lexis_Fight_Against_the_Dead/

Tantz's newspost on Active/Reactive characters http://www.theduckwebcomics.com/news/2017/oct/13/active-vs-reactive-characters/

Special thanks to:
Gunwallace - http://www.virtuallycomics.com
Kawaiidaigakusei, - http://www.theduckwebcomics.com/user/kawaiidaigakusei/
PitFace - http://www.theduckwebcomics.com/user/PIT_FACE/
Banes - http://www.theduckwebcomics.com/user/Banes/
Tantz Aerine - http://www.theduckwebcomics.com/user/Tantz_Aerine/
Ozoneocean - http://www.theduckwebcomics.com/user/ozoneocean

Featured music:
Boys Land - http://www.theduckwebcomics.com/Boys_Land/, by Boysland_crew, rated T.