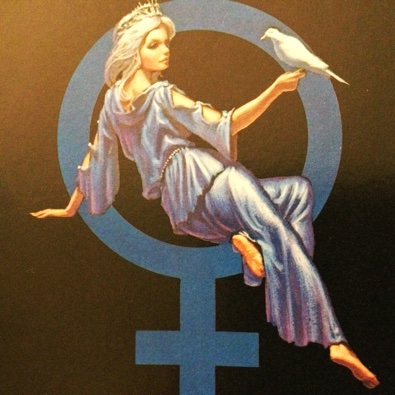 Photo: "Venus: Love and Beauty". National Geographic Picture Atlas of Our Universe by Roy A. Gallant. (1980)

Love is the center of discussion in "The Speech of Pausanias" from Plato's Symposium. Pausanias brings up the existence of two goddesses that both embodied love: an older deity, Urania, known as Heavenly Aphrodite; and a younger goddess, Pandemos, known as Common Aphrodite.

"It follows, therefore, that there is a Common as well as a Heavenly Love, depending on which goddess is Love's partner. And although, of course, all the gods must be praised, we must still make an effort to keep these two gods apart." (Symposium, Plato 180E)

The most interesting are the characteristic traits the two Love goddesses look for in romantic partners—

The Common Aphrodite is "attracted more to the body than to the soul, and to the least intelligent partners". (Symposium, Plato 181C)

The Heavenly Aphrodite is "considerably older and therefore free from the lewdness of youth….they find pleasure in what is by nature stronger and more intelligent". (Symposium, Plato 181D)

The only characteristic that comes up in both descriptions is intelligence, to show the Common Aphrodite's careless disregard for it compared to the Heavenly Aphrodite's preference for it as an essential quality.

To each their own, Pausanias' assumptions of the Common Aphrodite's modus operandi—to ignore an attraction to intelligence—is not how it is always played out all across the board. A relationship without intelligence is a relationship not worth having.

==

Tomorrow is Valentine's Day, so buy the mini cards to pass out, large balloon bouquets, and flower bunches. Celebrate Love in all its forms and remember that on the evening of February 14th, brilliant Venus will pass blue Neptune in the evening sky.



.::.
What's Quacking?
Do you have any original art to contribute to our stock image database, announcements, community projects, ideas, news, or milestones to report? Please leave general comments below or send a PQ to kawaiidaigakusei.