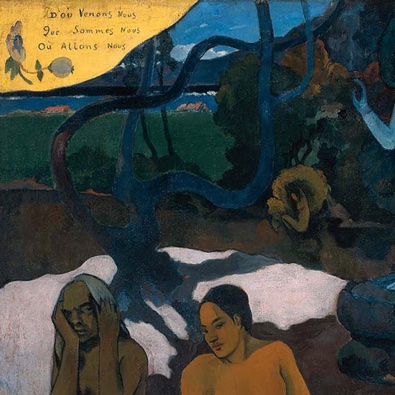 Photo: "Where Do We Come From? What Are We? Where Are We Going?" Paul Gauguin. Oil on Canvas. Museum of Fine Arts, Boston. (1897-98)

A somber recollection carries me back twenty-two years ago on this day when I walked into a class where an inconsolable history teacher delivered a line I will always remember: "There will not be a lecture today. We will sit in silence because today will be a day that will go down in history."

Five years before his death, post-impressionist painter, Paul Gauguin completed a novel masterpiece, "D'où venons-nous? Que sommes-nous? Où allons-nous?" (translated to "Where Do We Come From? What Are We? Where Are We Going?") The lengthy canvas can be visually read from right to left, beginning with a baby on the farthest right and ending with an elderly woman with flowing white hair on the left. There is a Polynesian figure reminiscent of Eve central to the piece reaching upwards for a piece of fruit from a tree similar to the biblical Tree of Knowledge.

In some cosmic coincidence, I can trace reverse-parallelisms of traveling paths taken by Gauguin and myself—Gauguin, originally from Western Europe detached himself from the European lifestyle to live in French Polynesia; My biological ethnicity links me to the Pacific Islands and I spent ample time in my twenties traveling around Western Europe, including France, the country Gauguin abandoned for warmer pastures. The love of travel, in general, was how I was able to explore as far as French Polynesia, just as Gauguin had one hundred years prior (I have several metal containers of gouache paints that I found in a utility store on Riatea to prove the experience really happened).

Revisiting Gauguin's work, "Where Do We Come From? What Are We? Where Are We Going?" allows me the time to explore the visual details, reflect on my own personal journey, and retrace my steps as if I were the main subject of the painting. No longer a newborn, and far from the elderly woman's final resignation of a life well-lived; I have traveled extensively to continents I never dreamt of visiting and am slowly getting through the most challenging novels on my bookshelf—I can easily picture myself as one of the middle-ground characters, slowly reaching toward the Tree of Knowledge, but before the acquisition of the verboten fruit.


Stephen Eisenman wrote in the 1997 book, Gauguin's Skirt, "Failures or imperfections in the execution of work are…welcomed…as traces of passion and genius." (Eisenman 137) When I evaluate my life up to this point, there were certainly failures and the imperfections definitely outweighed the perfections. The failures were necessary in building the path that I still walk on today, and I love walking along this path built on imperfections.

Early last week, I received an out of the blue email from a history teacher—a former colleague of the history teacher, whose room I sat in silence for one entire class period on this day twenty-two years ago—asking if I could take the class reins for a week and lecture the next generation about the Great War. I happily obliged.

The time to step up is now.



.::.
What's Quacking?
Do you have any original art to contribute to our stock image database, announcements, community projects, ideas, news, or milestones to report? Please leave general comments below or send a PQ to kawaiidaigakusei.