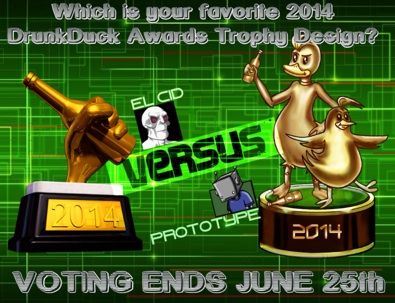 2014 DRUNK DUCK AWARDS
We had a grand total of two entries submitted for the design the awards trophy contest this year. Whose do you like better? El Cid or Prototype? Vote in the contest thread or by PQing Niccea (if you want your votes to be confidential). And…trophy design voting ends 6/25.
VOTE HERE ===> http://theduckwebcomics.com/forum/topic/176163

Voting for the awards will begin on July 6th. For Your Consideration submissions will be allowed until July 12th. Extras will always be welcome at anytime, but anything related to the For Your Consideration plot of locating the missing Niccea will be cut off at this time.


QUACKCAST
Last Things First: Quackcast One Seventy-somethin'

For an upcoming Quackcast, Banes and ozoneocean are going to revisit the world of writing and talk about ENDINGS.
-Whether it's ending an entire series, or a story arc, or chapter, what are your thoughts on endings?
-How do you go about ending a story or chapter well? Is it hard for you? Do you write your endings first, or do you find your way there along with your characters?
-Is the ending the most important, make-or-break part of a story?
-What makes a good ending? What makes a terrible ending?

Please contribute your insight in the forum thread:
Link: http://theduckwebcomics.com/forum/topic/176173/

MILESTONE





Congratulations to jgib99 because Karen's Edge reached 100 fantastic pages last Tuesday!! Awesome work as always and check it out today.
Link: http://theduckwebcomics.com/Karens_Edge/

.::.
What's Quacking?
Do you have any original art to contribute to our stock image database, announcements, community projects, ideas, news, or milestones to report? Please leave general comments below or send a PQ to kawaiidaigakusei. Email me at kawaiidaigakusei(at)gmail(dot)com.