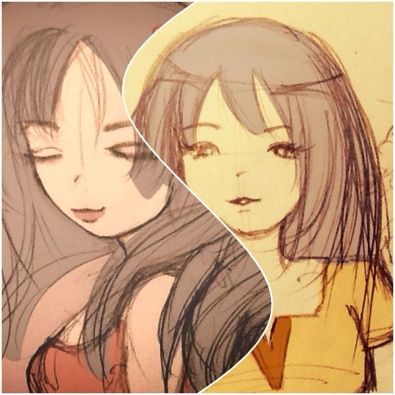 The world is a noisy place. It makes little difference whether noise is coming from a construction site outside the window, loud neighbors in a crowded apartment, or the supposedly "quiet" times in the middle of the night when the sounds of the crickets outside are amplified ten fold. I am sensitive to noise which is why I own a large headset that cancels out unwanted noise and sends a message to passersby that I am not in the mood to be disturbed. Music has a way to remember the past and listening to a particular song can bring all sorts of emotions to the surface.

When I am drawing a webcomic, background noise plays a significant role in the finished product. Having the right song (compared to being forced to listen to a song that makes me feel uncomfortable) allows me to go on autopilot and draw naturally. It is easier for me to express an emotion and show feeling in my work if I am listening to a song that gives me a similar feeling.

I decided to do a little experiment of my own and see if a noticeable change in my drawing technique would be reflected based on different types of music. I chose one very mellow and relaxing Bon Iver song, a very high energy dance mix by Skrillex, and a classical piano piece by Chopin.

EXHIBIT A.


Bon Iver (indie folk)

Results: I usually use this type of music to relax, so drawing while it is playing in the background would be my ideal afternoon. The only thing I noticed was that it took more time to draw because I was working at a slower pace because the music was SO peaceful. I prefer this type of music for sleeping or drafting, but definitey not at the gym.

EXHIBIT B.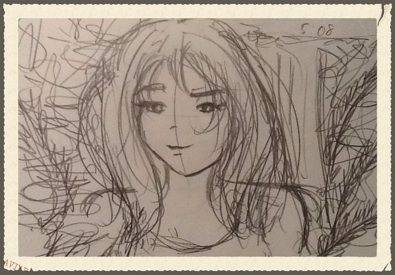 Skrillex (dubstep)

Results: This is not the typical type of music I listen to when I draw. It actually made me use more pressure while I was drawing, resulting in bolder, darker lines. I do not have anything against dubstep music, but I can not use it for drawng music because it ended up stressing me out.

EXHIBIT C.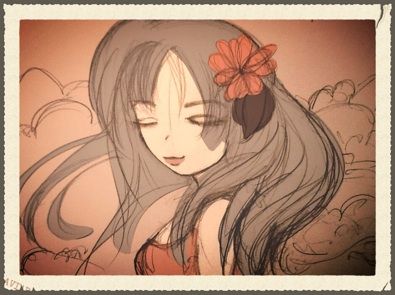 Frederic Chopin (classical)

Results: Classical music usually has a good reputation for productvity and this proved no different. This one was the most surprising because it deviated from the other two drawings the most. The final drawing has this ethereal, elegance and whimsy that I can only credit to my love of Chopin. It should also be noted that this was the final drawing I made in the set, so the improvement could have been as a result of warming up with the other drawings.

The results varied and reaffirmed my original idea that music plays a part in art output. I picked music that matched with my own particular style of drawing, whereas an artist with a very edgy art style would benefit more from listening to classic rock. This is a pretty fun activity to try on your own and could lead to a discovery of a new stylistic art style that can transform your work!

.::.

MILESTONE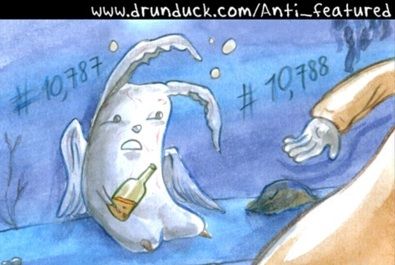 The once featured comic, ANTI FEATURED, which discovers many of Drunk Duck's hidden treasures, by Locoma reached its 50th page milestone!

The comics selected in ANTI FEATURED are like those mystery grab bags with a hidden prize. Some are outright hilarious, while others are hidden gems. Locoma takes special consideration to read through the comic archive of the comics he features and writes well-thought out commentary in his author's notes. I highly suggest that you check out this comic, who knows, maybe you will find your comic featured in it.

Also, stay tuned for next Monday's newspost where I will get a chance to interview Locoma about his selection process for anti-featured comics!

Link: http://www.theduckwebcomics.com/ANTI_FEATURED/

.::.
What's Quacking?
Do you have any announcements, community projects, ideas, news, or milestones to report? Please leave general comments below or send a PQ to kawaiidaigakusei. Email me at kawaiidaigakusei@gmail.com.