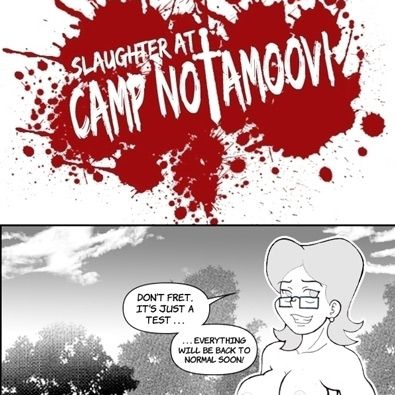 Sexy teens, a summer camp down by a lake, hormones, a mysterious legend of a roaming monster, and ancient Indian burial ground… all the ingredients are here and ready for a deadly red soup of murder! And a good old fashioned classic sex comedy. My fave characters so far are Sandra Van Dyke the douchey lesbian and Patricia O'Brien the aggressive Irish girl. This comic is a LOT of fun!
The art is black and white, the style is a sex-comedy, horror thriller. I have only two criticisms of the comic: the text in the beginning is a little hard to read and character lines are sometimes a little clumsy. Apart from that it's pretty good and always improving!
BE AWARE: this comic is rated Mature and there are instances of full frontal nudity.

Read Slaughter at Camp Notamoovi, by Freakenburger, rated M.