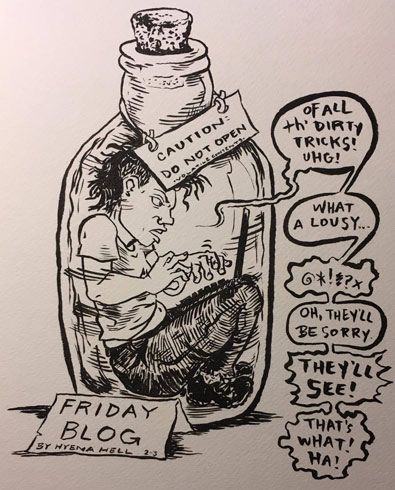 Every good story (true, fabricated, or more typically, somewhere in between) here in the City That Forgot to Care, begins with a thoughtful pause, a drawn out "Well," followed by the phrase "what had happened was…"

"Who drank my beer?"
"Dude, what happened to your face?"
"Why are you carrying that sack of mannequin parts?"
"Where'd all this blood come from?"
"They're charging you with WHAT?!"

And so on, and so forth.

That's how my story starts, in answer to the question you totally didn't ask, which is "Who are you and why are you here?" I'm skipping out on answering that first bit on account of you'll find out soon enough and likely wish you hadn't. But why am I here? Well I oughta ask you the same. Actually I aim to, but if I let that out now it'll spoil the dramatic turn and… rats. Well. What had happened was, there was kinda this epic contest of wits, see? Between me and Oz. I mean real epic, like as epic as ever been heard of this side of Ragnarok, got it? After what seemed an eternity of twists and turns far too complex to detail here, I was eventually bested, undone by some logical fallacy or riddle or Jesus Christ y'all use your imagination for once. I ain't even getting paid for this gig, you cant expect me to do all the heavy lifting. Anyhow. Resultant of that I'm kinda sorta bound by this blood pact to write out a Friday news post for perpetuity. Also I now have to live entrapped in this cursed jar until some unwitting fool utters my REAL name three times under a full moon, but that's neither here nor there, right?

But enough about me. Lets talk about y'all. More specifically, let's talk about what you're doing here. Lemme guess: comics, right? Hell, I said I was gonna ask, and here I am just blurting out assumptions. Well, if you've somehow stumbled in here shopping for adult diapers or looking for quick and easy chicken dinner recipes let me be the first to regretfully inform you of your mistake. As for the rest of us, let's talk about why we're here. Let's talk comics.

More specifically, what is it about comics that keeps us coming back? There are other ways to tell stories, certainly. But there's something about comics that engages all sorts of folk from all sorts of walks of life, all ages, all backgrounds and creeds in a way that no other media can. Most of us can probably chronicle our life in the comics that grabbed us and drew us in- captured our imaginations and made us look at the world and how we engage with it in a new way. Do you remember your favorite newspaper strip? The first title you followed? Were you convinced that you'd totally develop mutant powers when you hit puberty? What about the stories that made you go, "whoa, that's heavy"? Do you remember the sense of power and freedom that making your first comic gave you- being in control, being able to craft your own world, your own characters, tell your own stories? Do you stay up well into the night, despite obligations to work or school, toiling over a story that you know only a handful of people will ever see? Is your house one big explosion of comic books and books on comics and pages of comics and seriously I can't find anything around here, where the hell is my Jack Kirby book, I know I didn't lend that out? Am I talking about myself again? Crap.

Anyhow. Comics are just about my whole world. I could wax poetic and philosophic-like and all kind of ways about what comics mean to me, but I'm stuck in this jar for perpetuity so I got plenty of time to get around to that. But, eh, in the meantime, what are you doing here? Why comics? Why you? Shoot.