I just recently heard that people in north Vietnam eat over 200 different types of animals. Of those, 80 are on the endangered species list.
The first thought that came to my mind was this: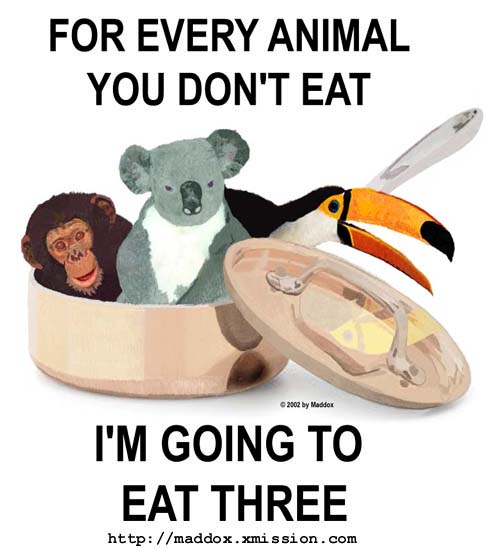 The second thought that came to my mind was a question:
How many types of animals have I eaten?
At first I didn't think they were that many but as I started to go through my personal data bank, I was more then surprised. I've eaten a whole lot of animals.
I'm now gonna put down a list of every type of animals that I've ever eaten. I invite you to do the same.
Now don't go and throw at me some "Oh I've never eaten an animal" because I'll challenge that claim on the spot. You could be a vegetarian or even a vegan today but there was a point were you were a carnivorous bastard like the rest of us. Remember the time your parents told you to finish your plate? I bet Betsy the cow had to suffer for that. Ever eaten a hot dog? That's at least 2-3 animals onto your list (often a combination of lamb, pork and beef). It doesn't matter if it's on your regular diet or if it's something you've only tasted once. List down every animal that you remember to have ever eaten.
Here goes.
My current list of slain animals that I've consumed (in no particular order):
Cow
Pig
Sheep
Chicken
Duck
Goose
Turkey
Horse
Mink Whale
Quail/Pheasant
Puffin
Moose
Deer
Raindeer
Cangaroo
Rabbit
Cod
Halibut
Trout
Salmon
Ocean Catfish
Tuna
at least 10 more different types of fish that I don't know the English name off
Greenland Shark (treated (they're poisonous, if untreated)).
Lobster
Octopus
Calamari
shrimp
crab
scallops
And there could be others that I don't remember eating (I'll update this post if I think of them).
So… yeah…
You?