I just felt that I HAD to make a thread about this after seeing some horrible design abominations!
Specifically the "pandaren" in the new World of Warcraft game expansion, I just saw a vid of that and was shocked at the inability of the designers, and watching some bits of the movie Troy; with the massive wealth of knowledge we have of how beautiful Greek armour was, they still manage to make their movie props look like shit.
I am a huge horrible nerd about this stuff, but as an artist who loves getting the look of things "just right" and collects a wealth of research and knows his subjects, this sort of thing is dear to me. Here are some examples below: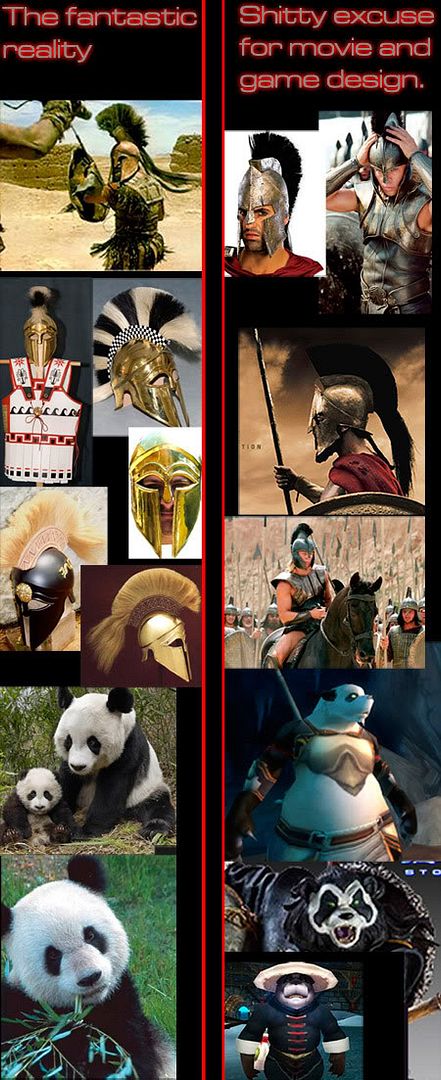 On the left we have Greek armour accurately replicated based on real archaeological examples, old writings, statues, mosaics, painting on pots, carvings etc. It's pretty, it's cool, it's exotic, it's
clever
!
On the right is the plastic shit they made for the films Troy and The 300. It's crude, it's silly, it's ugly, it's simplistic and boring. One wonders why they even took the time to create their own versions in the first place. The black colour of the Troy armour looks even worse on the fat pink-skinned actors wearing it.
—————-
The Pandas on the left beautifully represent the two key features of pandas, without which they are nothing: Massive, disproportionately large heads with extra wide cheeks, and the spots around their eyes.
On the right you have an excuse for design. Some imbecile has used a polar bear shape and added panda eye markings, so they look like Polar bears in Glam Rock make-up. -without the big head and the wide cheeks, IT IS NOT A PANDA!
Where do these idiots come from?