Public Profile
kitty17
member since February 02, 2007
About
-I really want to stop being lazy, but at the same time I'm too lazy to stop.
-Everyone is weird in their own Little way, there is no denying it..But that's cool,it's awesome to be different.
-And so, die die mischievous kitten living in the real world.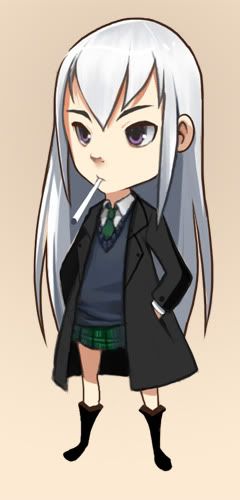 Drawing By
Endling
——-Current Comics——-Unsound of Mind:
Story of my life…only reinterpreted slightly. Updated whenever inspiration gets thrown my way.
Counting Down Backwards from 19:
New Project. Horror/Murder Mystery. Warning: has lots of blood and stuff o:
KALA KouKou:
Collab with DarkChibiShadow. School life of the KALA peeps, with an added twist.
KALA dan:
A KALA sketch book of sorts.
4KALA
- A collection of 4koma comics done by members of KALA-dan, including myself :3
———-Under Construction————Para Paranoia:
Currently being re-written.
———–Ended————-
Biggest list in the bunch :D_b
Sailor Soldiers of Justice:
Cute Sailor Moon Yuri. Collab with Pastel- Actually Finished (That's a first :D)
-Obey the MooCow-
K.A.L.A.-dan Moe Maid TeeHee~
Comics Assisted By kitty17
Fantasy |
3 pages |
last: July 7 2011 |
0 likes
The humans' mind is a powerful thing. Powerful enough to create demons. Demons that latch onto a concept, emotion, or thought and becomes it. Through out time people have believed in magic and witchcraft. But in reality it was all individuals using demons
Fantasy |
35 pages |
last: July 6 2011 |
0 likes
The year is 206X, professional theives Luciano Rivers and James Hunt are in for more than they bargined for when they decide to break into the Bountiful Kindgdom of Nevada! And just who is that mysterious pink-haired girl?
Fantasy |
101 pages |
last: July 6 2011 |
3 likes
The adventures of Sailor Moon, Sailor Mars, and friends. Done in Oekaki.
Comics Recomended By kitty17
more
kitty17's friends
forum topics started
Videos Shared By kitty17
No videos.
©2011 WOWIO, Inc. All Rights Reserved Google+