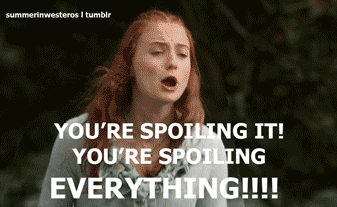 So, full disclosure: I am spoiler immune.

I don't really care if I know how a story ends, or where the twist is. I might even enjoy it more as I anticipate it. I will watch the movie without issue and still enjoy it just as much.

Granted, when I don't know what's coming, SOMEtimes I get an impact (in the vein of a jump scare) that I might get in a slightly lesser degree if I know something is coming.

Usually though, even when I know something is coming, it still gets me.

The reason for that, I think, is my immersion. When I get into a movie, I forget myself along with my disbelief that is suspended. And I don't stop to think what I already know about the story. I simply follow the characters as the story progresses, and react to what is on the screen.

Others aren't like this. They cannot be spoiled, or the movie or show will be ruined. I'm …honestly not sure how that works (let us know in the comments!). But I respect it.

The other day though, I was watching yet another deep dive on how Game of Thrones botched its final season and a line there got me thinking:

It's not the spoilers that spoil the movie, it's the movie's story and whether people need to retell it.

That's an interesting take I thought warrants some discussion. The point is further illustrated with the Shakespearean classic Romeo and Juliet, and how the ending is literally spoiled 5 seconds into the play: "…a pair of star-crossed lovers, take their life."

And yet, though we know that they die in the end, we still watch it. We still worry and pine for them to survive against all odds. And we still feel the gutpunch that is them dying and virtually casting in mourning and tragedy two entire families.

Is it possible that a spoiler is only valid if the story is built in some manner that only hinges on the shock and awe of its novelty?

I am not sure. Sometimes, you need not to know in order to feel what the characters are feeling. Take, for example, the movie The Others with Nicole Kidman.

I remember being at the edge of my seat watching the movie. The suspense and the quality of horror was such that hinged largely on the reveal of the actual situation of the haunted house. (No I won't spoil it)

The biggest effect I remember watching the movie was the break of fear that the reveal brought around. Everything felt explained, in place, and non-scary because I finally knew what was going on.

Would I get the same effect watching it a second time?

Honestly, I don't know. Because I haven't watched it a second time. I didn't feel the urge to do it, because I now knew the secret, and I didn't find anything else in the movie to lure me to rewatch it. Had I been spoiled before my first viewing, would I still go see it? Yes. I would because I'd want to see how they do it but I'm not sure if I would be that mesmerized by it again.

Do I want to retell the particular story?

Not really. But then again, that might be because I'm not that much into ghost stories and not because of the story itself.

On the other hand, when it comes to other movies with big reveals, I still want to watch them again, to savour that big reveal again and again. Such films are Shutter Island, The Departed, Primal Fear and many others.

Would I like to retell them?

Sure! But then again I like suspense.


What do you think? Are spoilers important only if the story is constructed to have emotional impact if the spoiler isn't previously known to the audience? Or is it a layer of enjoyment that is necessary, at least where it comes to cold audiences?

Don't forget you can now advertise on DrunkDuck for just $2 in whichever ad spot you like! The money goes straight into running the site. Want to know more? Click this link here! Or, if you want to help us keep the lights on you can sponsor us on Patreon. Every bit helps us!

Special thanks to our patrons!!





Justnopoint - Banes - Rmccool - Abt Nihil - Phoenixignis - Gunwallace - Cresc - Pauleberhardt - Scruff - Dragonaur - Emma Clare - Dylandrawsdraws - Functioncreep - Eustacheus - Dillycomics - Barrycorbett - Sinjinsoku - Smkinoshita - Jerrie - Chickfighter - Andreas_Helixfinger
Tantz Aerine/