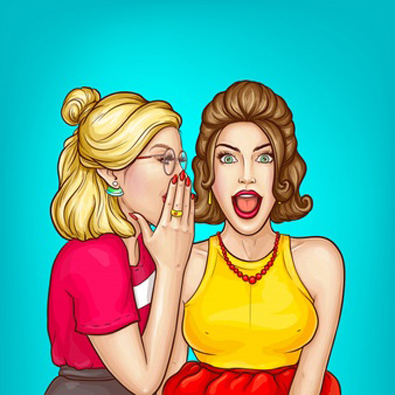 You have a comic! You love it! You think it's amazing! But when faced with explaining it to other people outside of the webcomicshpere, you feel yourself deferring, prefer instead to shuffle your work under the rug, hoping that you don't find yourself looking too weird. At least, that is something I struggle with all the time.

I came to notice it last year when my partner and I were overseas for a spell and we stayed with some really nice people for a couple of weeks. When asked what I do, I deferred and merely gave my job title as a graphic designer, not even daring to admit that I draw comics as well. A few days later, my partner actually began talking about them to other people. I only found out that he had done this when they actually came up to me and asked, to my horror, to actually ready my comic!

On one hand I was very flattered and heartened by the amount of faith my partner has in my work, but on the other I was dying on the spot. The idea that my super, secret double life would be revealed to people I barely knew made me unbearably awkward inside.

But here's the thing. When I finally began to talk about it and why it is I make comics, the enthusiasm was hard to hide. I was excited to talk about it in the end and lo and behold, those people were, in turn, excited to read the comics I was drawing. They even began exploring others on the sites we hosted on and thus, we inducted more people into the fold.

Talking about your comics is hard to do, because being dismissed is a difficult pill to swallow. I know. I've been there. And with every dismissal, it has made me more and more nervous about talking about them. However, when I pushed passed that and tapped into the feeling of why I draw comics, talking about the work itself became easier.

So if you are struggling to talk about drawing comics with others, try and approach it as why you draw comics. Your enthusiasm will get them excited about checking out not yours but other people's works too!

How have your experiences with talking to others about your comics gone? Let us know in the comment section below! And join us on Sunday evening for our Quackchat at 5:30PM(EST)!

Don't forget you can now advertise on DrunkDuck for just $2 in whichever ad spot you like! The money goes straight into running the site. Want to know more? Click this link here! Or, if you want to help us keep the lights on you can sponsor us on Patreon. Every bit helps us!

Special thanks to our patrons!!






Justnopoint - Banes - Rmccool - Abt Nihil - Phoenixignis - Gunwallace - Cdmalcolm1 - Cresc - Pauleberhardt - Scruff - Dragonaur - Emma Clare - Dylandrawsdraws - Functioncreep - The D Wrek - Mks Monsters - Eustacheus - Dillycomics - Barrycorbett - Sinjinsoku - Smkinoshita