Jonathin Quackup flees with his family from an evil warlord and faces his destiny in this 25-page full-color comic…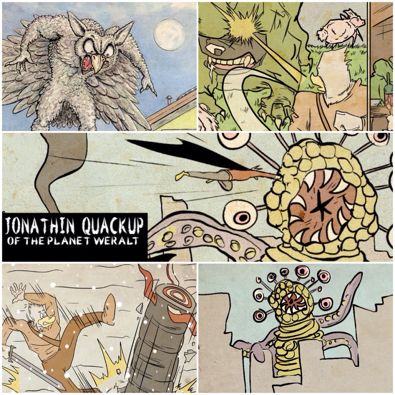 Link: https://www.kickstarter.com/projects/raytoons/jonathin-quackup-of-the-planet-weralt-1


The Jonathin Quackup of the Planet Weralt series tells the story that takes place in the fantastical planet of Weralt. The world was once protected my a mysterious beings called the Quacki. They protected the inhabitants of the world (humans, hawkoids, pelishtees, etc.) from the monsters that lurk in the shadows of night.

But one day the Quacki disappeared. Without their guidance or protection, the peoples of the world fought amongst themselves. And the monsters came out of hiding and ravaged the lands.

The world of Weralt became a much darker place. The world is in need of a hero. Now, more than ever…

Jonathin Quackup of the Planet Weralt #1 takes place over a thousand years after the Quacki disappear and introduces us to the main character of Jonathin Quackup. Jonathin Quackup has spent around 5 years of his life wandering the lands (between the Pelishtee and Human borders) protecting the peoples from all sorts of villains and monsters.

Jonathin Quackup lives a hard life. After a couple of pages of action, in which he rescues a child from a Frickle invader, he stops to ponder how his life became this way.

This leads to a flashback to when you was a young kehseb herder (kehsebs are a lot like sheep) and he has a different name… Jonathin Yoawb. He is a hawkoid of the Yoawb clan. We see him watching over the kehsebs with his brother, Asa.

When a corrupt hawkoid overlord goes after his cousin Taeheed, whose rising popularity has made the overlord jealous, Jon and his family are forced to leave their homes. They make a long trek to the land of the Pelishtee cats.

The ruler of the Pelishtees, Prince Awkeesh, allows them to stay… But only on the condition that they help fight of any invading Skincrawler cats. (The skincrawlers are tribes of nomadic cats that loot and plunder the hawkoids, pelishtees, humans, and other groups in the area.)

In this issue, Jon and his family face war and tragedy. And Jonathin will soon discover the hero inside himself. Literally.

Copyright © 2016 Raytoons Comics & Games, All rights reserved.



MILESTONE




Used Books by usedbooks

Used Books will celebrate its ninth anniversary on DD this coming Tuesday. usedbooks did not do anything special to commemorate, but she will be returning from her short hiatus with a new chapter.

Link: http://www.theduckwebcomics.com/Used_Books/



DRUNK DUCK IMPROVEMENT DRIVE INDIEGOGO CAMPAIGN

Donate to the Drunk Duck Indiegogo campaign!

Did you know that Drunk Duck is currently having a crowdfunding campaign through Indiegogo? All the proceeds from the donations are going to go directly back into this site through upgraded programming and a return of favorite features.


Thank you, so very much to all the generous donations we have received so far from this lovely group of benefactors:

Banes,Call Me Tom, QSAMA, Skullbie, El Cid, Jake Richmond, Miruku, usedbooks, alejkhan, PaulEberhartd, Darwin, ashtree house, Gunwallace, KimLuster, maskdt, Whirlwynd, Abt_Nihil, HippieVan, ghostrunner, kawaiidaigakusei, Genejoke, Hayakain, darrell, jgib99, irrevenant, Schlonz, strixvanallen, UltimateZ, Coydog, VinoMas, matuliox, Yann, Zacheriah, ThePandoraProject, Z74, jerrie

A very special THANK YOU for all the perk contributions through time and art talents from these wonderful people:

Amelius, Black Kitty, ironhand, Gunwallace, Tantz Aerine, fallopiancrusader, alejkhan, PaulEberhartd, Jake Richmond, usedbooks, HippieVan, Banes, Whirlwynd, ozoneocean

Please let me know if you do not see your name on this list, I will happily add you!


Donate to the Drunk Duck Indiegogo campaign!



.::.
What's Quacking?
Do you have any original art to contribute to our stock image database, announcements, community projects, ideas, news, or milestones to report? Please leave general comments below or send a PQ to http://www.theduckwebcomics.com/quack/compos
ng–comics have the ability to transcend all ages, walks of life, eccentricities, and unique individuals. It can be used as a tool to find common ground between two strangers from different backgrounds. This experience reaffirmed the reason that I have been spending so much time working with comics.