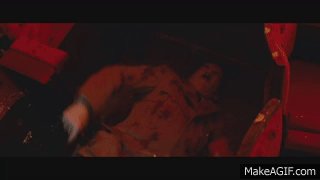 So over here on Greek TV, there's this very popular drama series that happens to be set in a Greek mainland village in the 1950s, and sells itself as 'authentically representing an era'. It started off very promising, as a crime drama + family drama kind of story where three sisters that own a coveted piece of land are forced to kill the heir to the big land owner of the area. They bury him and he 'vanishes', and the drama goes on from there, with all the ramifications of all of this happening in a close, small society full of secrets and unconfessed vices. In the 50s.

So far so good.

Unfortunately, the story became so popular that the channel ordered something like 4 seasons instead of the single one that the story was designed to take (or maybe two at the most). And as a result of that, the story devolves into a soap opera that resembles the Young and the Restless. (Yes, fine, go ahead and date me)

And while that could happen, and even be a nice illustration of how small close knit societies of the era would keep secrets and/or not act on abuses, the series unfortunately becomes …disturbingly modern: homosexual people come out and somehow everyone accepts them for it, couples get divorced and there is no social stigma over that, young ladies decide they want to have premarital affairs because 'it's their right', and so on. In sort, we get current social norms embedded in the 1950s as if they had always been there.

Just to be clear, Greek 1950s society was very puritan and things like pre-marriage or extra marital affairs ruined lives- they were not up for discussion as a right (plus they were officially illegal). Homosexual people were tolerated but not celebrated, and often, depending on the society (especially village vs city) they were marginalized as potentially contagious. Divorces took several years to happen, if they ever did, and the divorced people were treated as little better than prostitutes/loose/bad material that couldn't make a marriage work.

So what happens when a series that is packaged as historical fiction upends this reality, is a two-prong issue: one, those that know history are thrown out of the story immediately. Two, those that don't know history assume that privileges enjoyed today were always a given, and they take it for granted, thus not appreciating the progress and the people that fought for this progress to take place.

When writing historical fiction, I believe that besides telling a story, we also teach about that era in a more visceral, profound manner than a history book. This happens because if the story is good enough, the audience engages and experiences the era, and thus forms impressions and ideas and acquires knowledge on it.

If that knowledge is wrong, then we get people with a skewed knowledge of history, and that in turn brews a lot of other dangers I won't get into in this article. Especially when the historical element is revisionist (e.g. having racial or social equality in, say, the 1600s or 20th century human rights discussions in feudal times), and even worse, revisionist in key historical events, then we run the risk of undermining peoples' perception of the world- especially the younger generations.

But what happens with stories like Inglorious Basterds? Hitler is shot dead in that (spoilers?) and his entire inner circle burns in a cinema inferno. This of course never happened. However, nobody believes it happened. This is not only due to the fact that Hitler's end is so well known it is a meme, but also, more importantly, because we're all aware that Quentin Tarantino's movies take place in an alternate universe of his own alternate history.

And this is the main point I would like to make: there's historical fiction, and then there's historically inspired fiction.

The former requires faithfulness to reality and meticulous double checking as a responsibility to the audience, the latter does not. And all it takes is a disclaimer in the introduction.

Rewriting history to be more faithful to what happened in reality (where possible) is a good thing. Rewriting history to serve our current society's sensibilities is really not.

Don't forget you can now advertise on DrunkDuck for just $2 in whichever ad spot you like! The money goes straight into running the site. Want to know more? Click this link here! Or, if you want to help us keep the lights on you can sponsor us on Patreon. Every bit helps us!

Special thanks to our patrons!!




Justnopoint - Banes - Rmccool - Abt Nihil - Phoenixignis - Gunwallace - Cresc - Pauleberhardt - Scruff - Dragonaur - Emma Clare - Dylandrawsdraws - Functioncreep - Eustacheus - Dillycomics - Barrycorbett - Sinjinsoku - Smkinoshita - Jerrie - Chickfighter - Andreas_Helixfinger
Tantz Aerine - Cdmalcolm1 - Epic Saveroom - Spacewitch - Alpharie - Genejoke - ArityWOlf - Davey Do - Spark of Interest - Gullas - Spark of Interest - Damehelsing - Roma - Nikolaimcfist - Nanocritters - Scott D - Bluecuts34 - j1ceasar - Kamourian King - Tinchel - Phillipdp - Teh Andeh