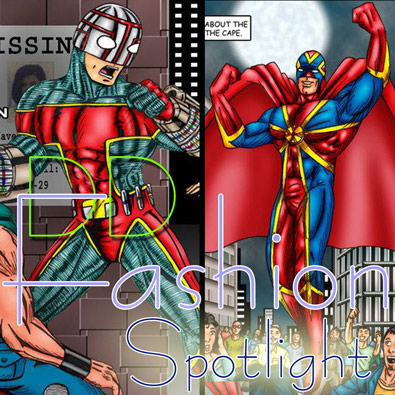 Welcome to the new Friday news feature:
The DD Fashion Spotlight!

Howdy and welcome to the second DD Fashion Spotlight feature!
This week I had a look at the comics on the Quail's Random feature on the front page of DD to see what I could find because the Fashion Spotlight doesn't have to be a new comics, it can be an older, no longer updating one. And that's what I found with The Intrepid TORPEDO. This is a comic from 2010, which is longer than most webcomic sites have even been around! XD (Tapas 2012, Webtoon 2014 (English )). It's a superhero comic with an interesting and individual art style and its superhero characters have striking outfits!
It features two main costumed characters, The Intrepid TORPEDO, and Crusader-X and I'll talk about their outfits here…





First off we have Crusader-X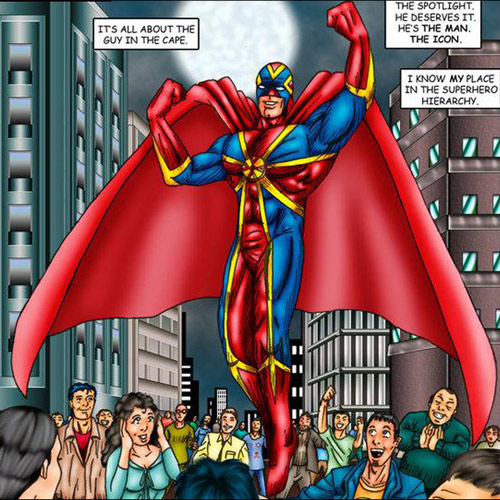 Crusader-X here looks awesome and flashy in his all-star hero outfit and he's supposed to. This is the guy who steals all the scenes from the working man heros who slug away on the sidelines. He's a high flying, super powered classic hero and his costume shows it. His colours are blue, red and yellow, something of a theme in this comic with all main characters sporting a variation on that combo. Red gloves encase his forearms highlighted by gold bands at the elbows that include a triangular motif cutting onto the outside of the glove forming crosses on the outsides of his arms. On his feet he wears Hessian style red boots, which are always popular with superheroes (made famous by Superman), they have a similar gold motiff to the gloves… On his head he wears a blue, red and gold hood that leaves his mouth exposed and his eyes covered in white, it has a design that forms a blue cross over his face, the negative spaces of the cross are filled with red, boarded by gold.

Lastly we have his torso! It's blue, red and gold in the the form of a giant red Christian cross over his whole body (part of the Crusader theme), boarded in gold, with a gold circular medallion at its centre. The way the red is on the inside of his legs and the blue is on the outside is a cool effect, as is the top of the cross forming a "V" on his chest which enhances the look of his muscles and flows perfectly into his high necked red hero cape. All in all this is a really great looking superhero outfit and wouldn't look amiss on the cover of a DC or Marvel comic.




Next up, The Intrepid TORPEDO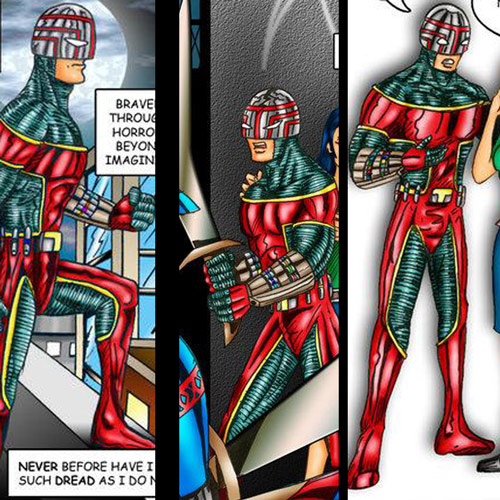 This is the titular guy, the real big cheese. Crusader-X might get all the panties thrown his way but The TORPEDO is who the comic is actually about! Again we have a guy who's colours are red, blue and gold… well the blue is actually shiny steel in his case but close enough. This is a far more unique outfit. Clearly he has a torpedo theme, typified by his bullet-like steel helmet decorated with a red "T" and two geometrically bordering lines on either side. His suit seems to feature an understrata of overlapping parallel steel plates which give him a flexible armoured shell.

Over this he has a tight sheath of red which has holes cut out, bordered with gold piping. Across the chest it forms the shape of a big "T", the top of it gives a great off-the-shoulder look which also serves to enhance the size of his neck and shoulders.
The bottom of the "T" cleverly flows into briefs and a belt at his waist. The red goes down the outsides of his thighs and forms boots below the knee. On his forearms he has two large metal vambraces which seem to hold multicoloured glass ampules. He has spares stored around his waist on either side of a steel belt buckle decorated with a large gold "T". I can't forget to mention his red fingerless gloves and the segmented steel armour on his fingers which give his hands a striking robotic look.




And another look at The Intrepid TORPEDO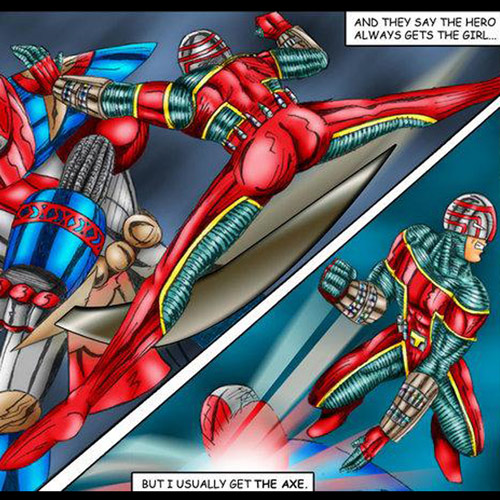 In these panels we have action shots of the Torpedo. We're rewarded with a look of him from behind as he does the splits to avoid a slash to the groin. What a set of pert, globular, shiny red buttocks, lovingly rendered! We see that despite his heavy armoured look he's quite nimble and flexible, able to perform all manner of acrobatics with ease. This might not be as flashy and exciting as Crusader-X's outfit, but it has a practicality and toughness about it, it's also extremely unique and original.

Check out these guys and more in Sariling Mundo's The Intrepid TORPEDO - https://www.theduckwebcomics.com/The_Intrepid_TORPEDO/




——————————–

Emma Clare isn't doing the Friday newsposts but she's still doing the Quackchat at 5:30PM(EST) every Sunday on Twitter!

Don't forget you can now advertise on DrunkDuck for just $2 in whichever ad spot you like! The money goes straight into running the site. Want to know more? Click this link here! Or, if you want to help us keep the lights on you can sponsor us on Patreon. Every bit helps us!

Special thanks to our patrons!!









Justnopoint - Banes - RMccool - Abt_Nihil - PhoenixIgnis - Gunwallace - Cdmalcolm1 - PaulEberhardt - dragonaur - Emma_Clare - FunctionCreep - Eustacheus - SinJinsoku - Smkinoshita - jerrie - Chickfighter - Andreas_Helixfinger - Tantz_Aerine - Epic Saveroom - Genejoke - Davey Do - Spark of Interest - Gullas - Damehelsing - Roma - NanoCritters - Scott D - Bluecuts34 - j1ceasar - Tinchel - PhillipDP - Teh Andeh - Peipei - Digital_Genesis - Hushicho - Sad Demon Comics - JediAnn Solo - Kiddermat - BitterBadger - Palouka - cheeko - Paneltastic - L.C.Stein - Zombienomicon - dpat57 - Bravo1102 - The Jagged - LoliGen