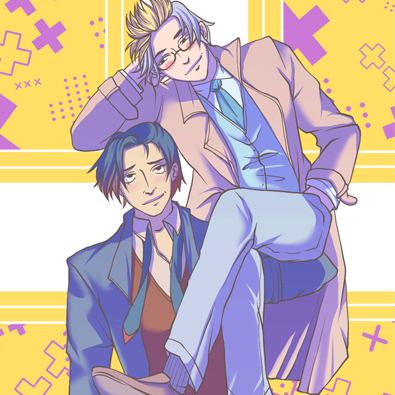 I have a script to write for one of our comics. We're transitioning from one scene to another. It's written in the outline, I can see the location in my mind, however I couldn't think of how to put it into words. How would it open? What was the set up? Who would speak first? I just couldn't get the pieces to line up.

When I sat down to write the script, I ended up drawing. I put on some calming music, made a nice cup of tea and scribbled away. Soon enough I had an adorable drawing of two of our characters, looking all cute and lovey dovey. It was then I had a breakthrough! The nature of the relationship between these two characters has yet to be addressed. In fact, one of them who has been around since the second episode, has barely had his character explored particularly when compared to the others.

The relationship between the two characters I had drawn was the perfect thing to mention in the episode. Not only would it further their character development and explore their background, it would make for a seamless transition between scenes.

However this breakthrough might have never occurred had I not taken the time to draw something fun for myself. So if you're feeling in a rut, try scribbling for fun. You never know what you might stumble upon.

Do you make time to draw for fun? Let us know in the comment section below! And join us on Sunday evening for our Quackchat at 5:30PM(EST)!

Don't forget you can now advertise on DrunkDuck for just $2 in whichever ad spot you like! The money goes straight into running the site. Want to know more? Click this link here! Or, if you want to help us keep the lights on you can sponsor us on Patreon. Every bit helps us!

Special thanks to our patrons!!










Justnopoint - Banes - RMccool - Abt_Nihil - PhoenixIgnis - Gunwallace - Cdmalcolm1 - PaulEberhardt - dragonaur - Emma_Clare - FunctionCreep - Eustacheus - SinJinsoku - Smkinoshita - jerrie - Chickfighter - Andreas_Helixfinger - Tantz_Aerine - Epic Saveroom - Genejoke - Davey Do - Spark of Interest - Gullas - Damehelsing - Roma - NanoCritters - Scott D - Bluecuts34 - j1ceasar - Tinchel - PhillipDP - Teh Andeh - Peipei - Digital_Genesis - Hushicho - Sad Demon Comics - JediAnn Solo - Kiddermat - BitterBadger - Palouka - cheeko - Paneltastic - L.C.Stein - Zombienomicon - dpat57 - Bravo1102 - The Jagged - LoliGen