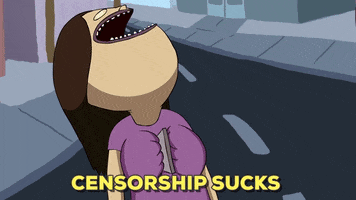 So I'm exhausted today, at the end of a very eventful week and a lot of work piled on work.

Which means I can't discipline my brain to write something more artsy or tropey. Though censorship is a trope, right?

When do we have censorship appear in stories?

Usually to illustrate that a regime is autocratic and oppressive. Basically, the existence of censorship is used as shorthand for "dictatorship" or worse.

Democracies, on the other hand, are illustrated by the sheer freedom of speech that exists, with the people being able to say whatever they want (with due feedback and reactions) being the norm.

In real life it's not so simple.

Probably because we rarely have a clean dichotomy, so all 'sides' have elements of 'baddie' to them.

Censorship is one of these messy elements: we may think we live in an area where we don't have it, but we do.

Media outlets do it all the time: assessing which piece of news gets to be aired is the most pedestrian type. Usually, to the benefit of a political affiliation or an ideology or in service to whoever owns the media in question.

It is a lot more blatant today. And what scares me is that people seem to like it and want for it. It's the sign of very dark times. Blocking something because it belongs to the "bad guys" isn't a good enough excuse: if your position is sound and objectively true, then you can simply refute the bad guy claims.

If you can't, you need censorship.

If you feel your position isn't strong enough, you need censorship.

If you want to force people to form an exact opinion, no variation, no nuance, you need censorship.

A "safe space", if you like, but for questionable regimes rather than oppressed and persecuted individuals. Our world is becoming more and more skewed, and people seem to want to needlessly enhance a narrative that doesn't need enhancing. For example, war is bad. It is always bad. Even if there are reasonable excuses for its initiation, it stlll is unpardonable.

This message doesn't need grotesque enhancement through censorship to hold true and remain the bottom line.

The road to hell is built on good intentions, and perhaps raging, unbridled emotions. But once you are in hell, it won't matter how you got there or what you intended. You will still be burned.

We got it right in stories. In real life not so much.

Don't forget you can now advertise on DrunkDuck for just $2 in whichever ad spot you like! The money goes straight into running the site. Want to know more? Click this link here! Or, if you want to help us keep the lights on you can sponsor us on Patreon. Every bit helps us!

Special thanks to our patrons!!






Justnopoint - Banes - RMccool - Abt_Nihil - PhoenixIgnis - Gunwallace - Cdmalcolm1 - PaulEberhardt - dragonaur - Emma_Clare - FunctionCreep - Eustacheus - SinJinsoku - Smkinoshita - jerrie - Chickfighter - Andreas_Helixfinger - Tantz_Aerine - Epic Saveroom - Genejoke - Davey Do - Spark of Interest - Gullas - Damehelsing - Roma - NanoCritters - Scott D - Bluecuts34 - j1ceasar - Tinchel - PhillipDP - Teh Andeh - Peipei - Digital_Genesis - Hushicho - Sad Demon Comics - JediAnn Solo - Kiddermat - BitterBadger - Palouka - cheeko - Paneltastic - L.C.Stein - Zombienomicon - dpat57 - Bravo1102 - The Jagged - LoliGen - OrcGirl - Miss Judged - Fallopiancrusader - arborcides