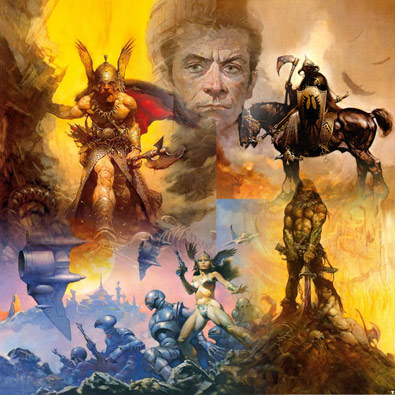 The other day I saw a clip of Frank Frazetta explaining his artistic process and what made his style unique, I found it fascinating. It made me remember just how awesome he was and how little regard he has in the wider art world. There were a lot of great 20th century artists, Frank Frazetta is never counted among them and I feel this is very wrong. His impact has been felt far and wide, his influence resonates even today, undiminished.

The 20th Century was a tough time for the world of fine art. Photography had started to chip away at its foundations in the 19th century, but by the 20th century photography was cheap and ubiquitous and fine artists were having an identity crisis: if cameras can easily, speedily, and cheaply represent accurate, realistic images of the real world then why should artists ever bother to do their own versions? Want to do a family portrait, then get a photographer, so much cheaper and faster than sitting still for hours and days. Want to depict a fantastical mythological scene, then hire models and set it all up in a theater with the right backdrop etc.

This is the main reason artists turned other things like abstraction, conceptual art, primitivisim, crafts, mixed media, and so on- going where photography couldn't follow. This had the effect of changing the prevailing fashion in fine art away from the representational and replacing it with a stigma (it still had comebacks in things like hyperrealisim). But people still needed representational art in the commercial world so this fashion had the effect of splitting commercial artists away from fine art, where previously there had been zero separation; in times past the two were the same thing. Of course there really IS no difference between the two but fine art is a multi-billion dollar industry that relies on you not realising this.

It's into this world that Frazetta was born in Brooklyn, New York in 1928. He trained by copying the works of the old masters and later by working as a comic book artist, before working up to painting movie posters, book covers, and album art. He developed a unique style that artists all over the world tried to copy, it transcended the typical flat, low contrast style of cover images from the time and instead seemed to reference the classics in a new way, blending fine art with commercial subjects. His images feature beautiful, directional compositions, deep contrast (very Caravaggio), gestural and highly painterly elements, strong inherent narrative (you can see a story in every image), and they convey emotion, passion, strength, and power, better than any acclaimed work of fine art from the 20th century.
Not only that but he created his own visual vocabulary that was entirely unique: he created the LOOK of how people "should" appear in fantasy and Scifi art- their bodies, their weapons, their hair, their horses, what colours things should be, their clothes…

His art became reverse commercial art in that instead of being created to sell a thing, things were created to use his existing art to represent them. In the heyday of his popularity in the 1960s and 70s he was a seismic event in the world of illustration. When you look back at book covers from that time you can find thousands that are copies of Frazetta's style, he was so influential that it changed how people saw things like fantasy. Many famous illustrators got their start by aping Frazetta before developing their own styles. Boris Vallejo and Julie bell are two that are quite recognisable in the fantasy art world as having Frazetta influence but never quite escaping from his shadow or getting to the same fine art level of mastery.

We're in the 21st century now and representational artists are facing a new challenge, just like they did with photography over 100 years before… Just when representational art had finally shaken off the stigma of 20th century fine art segregationalisim we now face so called "AI" art directly stealing our work and repackaging it: why pay money and take the time to wait for a real artist to make something when you can ask an AI to make a fake version of it in seconds? Ironically a lot of the imagery these things produce can be traced back to Frazetta: that explosion of fantasy art from the 1970s that created its own style and influenced illustration down through the decades eventually gave birth to hundreds of thousands of copycat digital artists posting on places like Deviant art where AIs have stolen the majority of their raw material, which is why when you look at a Frazetta now you could almost be fooled into thinking it was AI art. Irony upon irony!

But what a legacy! Even fake art owes him a debit.


Don't forget you can now advertise on DrunkDuck for just $2 in whichever ad spot you like! The money goes straight into running the site. Want to know more? Click this link here! Or, if you want to help us keep the lights on you can sponsor us on Patreon. Every bit helps us!

Special thanks to our patrons!!











Justnopoint - Banes - RMccool - Abt_Nihil - Gunwallace - PaulEberhardt - Emma_Clare - FunctionCreep - SinJinsoku - Smkinoshita - jerrie - Chickfighter - Andreas_Helixfinger - Tantz_Aerine - Genejoke - Davey Do - Gullas - Roma - NanoCritters - Teh Andeh - Peipei - Digital_Genesis - Hushicho - Palouka - cheeko - Paneltastic - L.C.Stein - dpat57 - Bravo1102 - The Jagged - LoliGen - OrcGirl - Miss Judged - Fallopiancrusader - arborcides - ChipperChartreuse - Mogtrost - InkyMoondrop - Jgib99 - Hirokari - Orgivemedeath Ind - Mks Monsters - GregJ