Public Profile
Zoom the Hedgehog
member since September 09, 2007
About
The Eccentric Artisan
I am not dead around here. I'm just currently working on nothing. :/ Very lazy and distracted.
——Organization Members——–
I - The Prehistoric Leader (Shadow Dinosaur)
II - The Modest Spriter (xVegitox)
III - The Last Jester (Zaniac)
IV - The Smoking Ace (Exxtasy69)
V - The Freaky Fro (BrawlLucas)
VI - The Klueless Loaf (PKNESS)
VII - The Alpha Ghost (XM0stLyGhOstLyX)
VIII - The Cool One (Poonipoonz)
IX -
The Eccentric Artisan (Zoom the Hedgehog)
X - The Eye Rapist (slipknot6SIC6)
XI - The Typo King (BetaFlameEXE)
XII - The King of Nicks (TheLuigiMan)
XIII - The Lucky Sketcher (Lexxorodius)
ABOUT MEName:
Alexander
A.K.A.:
Alex the Chao
Age:
15
Race:
Puerto Rican/African
Gender:
Male
Location:
USA, Connecticut
Favorite Color:
Green
CONTACT AND LINKSAIM:
alexthechao360
MSN and Email:
alexthechao360@aol.com
Youtube Account
Deviantart Account
Neoseeker Account
VIDEO GAMES!?MapleStory:
Want to play with me? Send me a message.
Xbox Live Gamertag:
El Moguri
Online Wii Games
Super Smash Brothers Brawl
Animal Crossing:City Folk (Yes I play this.)
Call of Duty:World at War
Call of Duty:Modern Warfare Reflex
Mario Kart Wii
Online DS Games
Pokemon Diamond
Pokemon Platinium
Pokemon SoulSilver
Sonic the Hedgehog: The Dark Brotherhood
Animal Crossing:Wild World (Yes I also play this.)
Mario Kart DS (lost)
If you want to exchange friend codes then PQ me.
OTHER STUFFMe be this pokemon
Retook this quiz months later and got Mew rather then Umbreon. I still don't see how I could have resemble an Umbreon. Maybe I was just being emo at the time… :/
Me also this pokemon? Errr…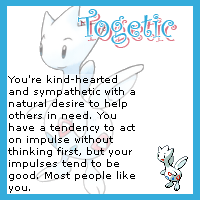 I don't think I'm
that
much of a caring person. Why am I getting these things? D:
The lonely not so frequently asked question.Question:
Can I be in your comic?
Answer:
If I said I wanted fan characters in my comic then yes.
Other wise:
NoOoOo! >:O
MY SPRITE COLLECTION
Above you'll find a link to all my sprite sheets of characters I've created all neatly organized for your convenience. Isn't that nice?
The following information is of no relevance to
anything
and should be ignored. Seriously, the text your reading right now, completely and utterly pointless. You can stop reading it right now and it won't effect your life in anyway. In fact, it ends here so you don't even have to worry about stopping yourself from reading this. Actually, since you have chosen not to restrain yourself from finishing this paragraph a crazy chick with a machete is going to come threw the next mirror you see and **** you up.
Comics By Zoom the Hedgehog
more
Comics Assisted By Zoom the Hedgehog
No comics.
Comics Recomended By Zoom the Hedgehog
Zoom the Hedgehog's friends
forum topics started
Videos Shared By Zoom the Hedgehog
No videos.
©2011 WOWIO, Inc. All Rights Reserved Mastodon