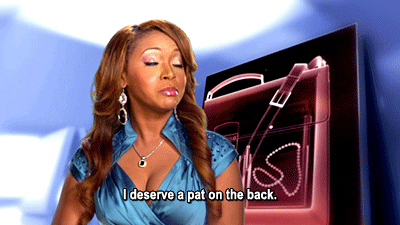 As we move from one task to the next, it's easy to brush over goals or milestones that you achieve without stopping to take in what an accomplishment that is. Taking the time to appreciate the effort these goals took to achieve can give you perspective on how far you've come, making future goals that much easier to plan for and work towards. When you hit that first milestone, as well as subsequent ones, be that in your studies, career, comics or even personal goals, take a moment to pat yourself on the back and say, "Awesome job!".

In O.C. Tanner's white paper, Wells Fargo Chairman Richard Kovacevich remarked, "When people aren't having fun, when they're not recognized for outstanding performance…when no one says 'thanks,' they do become disengaged and feel unimportant,"

Producing webcomics is a self-driven activity. By recognising your work and effort, you are fostering your own self-motivation. It's a healthy habit to maintain, as it will keep you going in the leaner comic months.

Sometimes the accomplishments are momentus, such as completing a degree, getting married or obtaining a huge following; other days it can be as simple as making the bed. Regardless, take the time to be proud of who you are and how far you have come. Embrace that feeling of pride that you have completed what you set out to do.

How do you celebrate your milestones? Let us know in the comment section below! And join us on Sunday evening for our Quackchat at 5:30PM(EST)!

Speaking of milestones, the Quackcast is turning 500 tomorrow and to celebrate a heap of us are getting online for Quackcast Extravaganza! To find out how you can tune in, click here!

Don't forget you can now advertise on DrunkDuck for just $2 in whichever ad spot you like! The money goes straight into running the site. Want to know more? Click this link here! Or, if you want to help us keep the lights on you can sponsor us on Patreon. Every bit helps us!

Special thanks to our patrons!!





Justnopoint - Banes - RMccool - Abt_Nihil - PhoenixIgnis - Gunwallace - Cdmalcolm1 - PaulEberhardt - dragonaur - Emma_Clare - FunctionCreep - Eustacheus - SinJinsoku - Smkinoshita - jerrie - Chickfighter - Andreas_Helixfinger - Tantz_Aerine - Epic Saveroom - Genejoke - Davey Do - Spark of Interest - Gullas - Damehelsing - Roma - NanoCritters - Scott D - Bluecuts34 - j1ceasar - Tinchel - PhillipDP - Teh Andeh - Peipei - Digital_Genesis - Hushicho -
Sad Demon Comics - JediAnn Solo