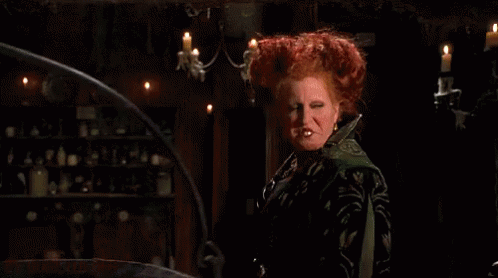 The witch is different than a sorceress, though their affinity with magic and their powers often can overlap: the sorceress carries status; the witch carries fear.

It's not that the sorceress is not potentially feared or the witch is not potentially respected- it's that the core of their design regarding these elements has different weight.

Sorceresses are more neutral (or more open, if you like) conceptually speaking when it comes to the nature/hue of the magic they have/are using.

Witches on the other hand always have some kind of brush with the Dark: the devil, black magic, the twisted occult that hinges on pain, murder, live sacrifice, and so on.

That doesn't mean that the witches in a story are necessarily cavorting with demons or embracing evil. The tone might be pure superstition, bias or prejudice heaped upon them by the society they live in. Or, there may be "good" witches and "bad" witches, depending on different qualities they may have, or the type of magic and spells they use.



Talking about bias…

What about male witches?

Usually, a witch is always female, but there's no reason to adhere to the rule. From what I've seen, male witches, if they are called that and not warlocks or sorcerers (thus immediately acquiring more status for the same practices) are also subject to the same biases or connotations, if in the setting of the story the title 'witch' is not genuinely ascribed to a dark powers user.

If you have a secular, non-magic story that contains witches, this usually means the woman is either a social outcast or a person that practices science in some way or form within a society that doesn't understand it. Which, of course, is true to history in several situations.

Do you have a witch in your story? Several ones? How much have you adhered to or bent the archetype?

Don't forget you can now advertise on DrunkDuck for just $2 in whichever ad spot you like! The money goes straight into running the site. Want to know more? Click this link here! Or, if you want to help us keep the lights on you can sponsor us on Patreon. Every bit helps us!

Special thanks to our patrons!!






Justnopoint - Banes - RMccool - Abt_Nihil - PhoenixIgnis - Gunwallace - Cdmalcolm1 - PaulEberhardt - dragonaur - Emma_Clare - FunctionCreep - Eustacheus - SinJinsoku - Smkinoshita - jerrie - Chickfighter - Andreas_Helixfinger - Tantz_Aerine - Epic Saveroom - Genejoke - Davey Do - Spark of Interest - Gullas - Damehelsing - Roma - NanoCritters - Scott D - Bluecuts34 - j1ceasar - Tinchel - PhillipDP - Teh Andeh - Peipei - Digital_Genesis - Hushicho -
Sad Demon Comics - JediAnn Solo