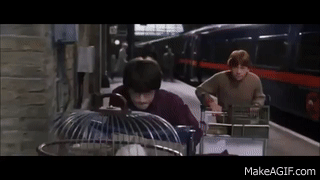 Our world seems drab, grey, mundane. But some escape it through a magic portal that transports them into a colorful, beautiful, adventurous magic world.

A world that is secret, known only to the select few as everyone else lives on unaware in the real world. And yet, the secret magic world is connected to the real one and can impact it.

And there lies the problem with the premise, though it is so alluring- it's as escapist as it gets! Characters that may be unremarkable in the real world become heroes or heroines in the magical one (or even the Chosen One). Amazing adventures with all sorts of magic battles and creatures await the reader who lives in that world vicariously through the main characters… and then, when the book closes, being in the real world doesn't destroy the fantasy. That world, after all, is supposed to exist hidden within or beside ours, somehow, and the things that happen there affect ours here.

But don't think about it for too long, if you want the magic to persist.

Because a magic world like that would be virtually impossible to exist. Not only because of the sheer problems of keeping it hidden when way too many people know of it (just how many muggles know of Harry Potter's magic world? Does every PM in the UK know of the ministry of magic?), but also because of the ramifications of having magic people living, breathing, acting among us.

Think about people and how they react to things. If you had the power to teleport into Hitler's chamber and capture him, while living during WWII, wouldn't you do it? How would you be oblivious of the devastation of such a world event even if you had chosen to live completely in the magic world? Would a magic law keep everyone from interfering?

And that's just scratching the surface of the myriad of problems that arise.

Problems that have no legitimate explanation or solution if our world is to be construed as having developed in parallel to the magic one without any interference of magic in its non-magic affairs. That's the trap that a lot of such fantasy worlds fall in, in my opinion.

Now, do you need to keep the real world unaffected by magic? Of course not. Grimm did it well by actually incorporating the fantastical elements into the real world- but then again, if we forget the last couple of seasons of the show, there was only one world in which the magic had always been taking place: ours.

On the other hand, you may have the magic world completely independent from ours. It cannot affect our world and we cannot affect it back (a la Narnia, at least as far as I know). That resolves a lot of the problems, except perhaps the fact that there is, still, a magic portal.

Have you ever thought of this issue with secret magic worlds behind the parapet of our real, everyday, mundane one? (disclaimer: I wish it were mundane, our world. I don't think it is at all)

Don't forget you can now advertise on DrunkDuck for just $2 in whichever ad spot you like! The money goes straight into running the site. Want to know more? Click this link here! Or, if you want to help us keep the lights on you can sponsor us on Patreon. Every bit helps us!

Special thanks to our patrons!!






Justnopoint - Banes - RMccool - Abt_Nihil - PhoenixIgnis - Gunwallace - Cdmalcolm1 - PaulEberhardt - dragonaur - Emma_Clare - FunctionCreep - Eustacheus - SinJinsoku - Smkinoshita - jerrie - Chickfighter - Andreas_Helixfinger - Tantz_Aerine - Epic Saveroom - Genejoke - Davey Do - Spark of Interest - Gullas - Damehelsing - Roma - NanoCritters - Scott D - Bluecuts34 - j1ceasar - Tinchel - PhillipDP - Teh Andeh - Peipei - Digital_Genesis - Hushicho - Sad Demon Comics - JediAnn Solo - Kiddermat - BitterBadger - Palouka - cheeko - Paneltastic - L.C.Stein - Zombienomicon - dpat57 - Bravo1102 - The Jagged - LoliGen - OrcGirl - Miss Judged - Fallopiancrusader - arborcides - ChipperChartreuse