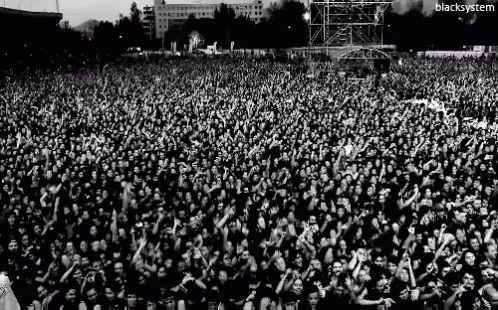 So this line has become famous lately since Elon Musk has been using it to reinstate banned Twitter accounts in the latest episode of the Birdsite Drama.

I'm not going to get into any opinion piece on what I think of this development but if you haven't joined us on Mastodon yet, do it now!.

I prefer instead to use this real life example to talk about writing great villains. Great not in that they are that oh-so-fun sexy, witty, well-dressed villain that you love to hate. Great in that they look crass and stupid but their villainry is actually quite sophisticated. You can debate whether they do it because they're aware and ruminate dastardly plans or because someone else advises them or simply because they're what in Greek we call "daft but conniving" (there's no English word equivalent for this concept) but you can't debate that Elon Musk is currently dealing the concept of democracy a potentially nasty blow.

So why, supposedly, is Musk reinstating all the banned accounts like the Joker opening the doors to Arkham Asylum?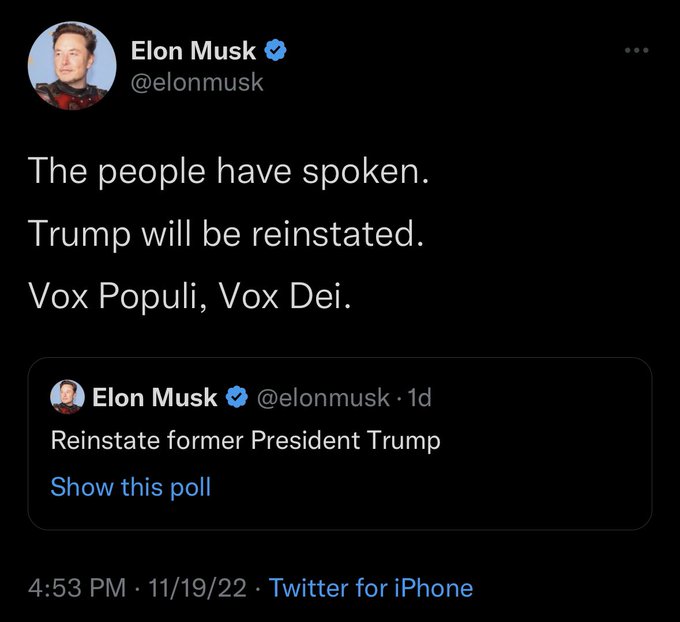 Because, he claims, the people will it. Vox Populi, Vox Dei (Voice of the people, voice of God).

At first glance, and for people that won't really sit around to think much of it, how does it look? That a mob of rabid users voted to make Twitter a pretty deregulated place (whether the "gates of hell" opened as the article I linked to claims or not is up to you to decide. Fact does remain that a lot of misinformation is bound to exponentially multiply now).

Assuming that people hate this development, what will they think? That democracy = mob rule. It's no accident that Musk uses the phrase "Vox Populi, Vox Dei" because the full quote warns against exactly that: Nec audiendi qui solent dicere, vox populi, vox dei, quum tumultuositas vulgi semper insaniae proxima sit. or in English We should not listen to those who like to affirm that the voice of the people is the voice of God, for the tumult of the masses is truly close to madness..

So what is best? Gag the crowds that are mad and make stupid decisions by vote, and allow the few grounded people of the world decide for everyone else.

It's not an argument that hasn't already been made, after all. However, this is flawed on so many levels it's …beautifully villainous. A great paradigm for a great villain character.

Let's take Musk's poll: How has he made sure troll and sock puppet accounts haven't made it so one person has like a hundred votes? How has he made sure bots don't vote by the thousands? It is said he's been suspending accounts left and right, how about their vote? Did he make this mandatory for every single account in the whole of Twitter to vote? Or even for 70%? How about 60%? Did he make sure each IP only votes once?

Probably not. But even if he had, it still wouldn't be enough.

A poll, any poll, much more his, is not a legitimate voting process. It's not even good enough for a statistics presentation for a college freshman, because it's compromised, with a very biased sample to say just a couple of problems.

Elections, on the other hand, are designed to have integrity (though how easily that is undermined is another story, and not the point right now): only adults can vote, the entire population (or those with full citizenship) can and is encouraged to vote, everyone is ensured to only get one vote, and to cast it in complete privacy even from their family. Or at least, that's how it should be for a minimum baseline to exist for democratic rule.

But even that wouldn't be enough, supposing Musk could magically secure all of that for all the world.

How many people are educated (and when I say educated I mean objectively informed) about the question being asked? Have they been informed about the projected ramifications of option A vs. option B or is it assumed that they'd know or be able to infer it? Are all messages in a controversial topic disseminated equally and with equal signal strength?

There's been a ton of research on this and the answer is no. Twitter is a highly manipulated social medium where violence and hostility is actively cultivated.

Voting is a process that is specifically designed for people to participate in such ways that mob behavior (what the latin quote Vox Populi, Vox Dei warns of) can break down and a person can vote how they want with impunity.

Twitter doesn't have these conditions. On the contrary, it's flawed in every way there is when it comes to democratic discourse. It's a really bad example to use when talking about "the voice of the people".

But would that be immediately visible to someone not acquainted with what democracy really means, or how elections aren't polls, or how a biased sample works, or how their potential circumstance of only having one account and having voted once in Musk's tweet doesn't mean everyone else did the same?

And how convenient would it be for someone to present this silly procedure as democratic if they were seeking to undermine the value of democracy, in a neoliberal system that seeks to use the state (the stronger the better) for profit of the few at the loss of the many? A neoliberal system that has been very good to them, by the way?

If they wanted the voice of the people, they'd let them unionize. They'd let them think for themselves by avoiding emotionally charged language and questionable rhetoric. They'd give them the time to think, the time to listen to all arguments, the time to evaluate what is good for them. The energy and feeling of safety required to sit down and do all this thinking (try thinking like that after working two jobs and returning to a house where you need to clean up or see to the children).
They'd teach critical thinking in schools.

Yes; Vox Populi, Vox Dei.

So best shout over it. ;) What's more perfect than a villain that says they do exactly what they are fighting against? Make villains like that in your comic.

Don't forget you can now advertise on DrunkDuck for just $2 in whichever ad spot you like! The money goes straight into running the site. Want to know more? Click this link here! Or, if you want to help us keep the lights on you can sponsor us on Patreon. Every bit helps us!

Special thanks to our patrons!!











Justnopoint - Banes - RMccool - Abt_Nihil - PhoenixIgnis - Gunwallace - Cdmalcolm1 - PaulEberhardt - dragonaur - Emma_Clare - FunctionCreep - Eustacheus - SinJinsoku - Smkinoshita - jerrie - Chickfighter - Andreas_Helixfinger - Tantz_Aerine - Epic Saveroom - Genejoke - Davey Do - Spark of Interest - Gullas - Damehelsing - Roma - NanoCritters - Scott D - Bluecuts34 - j1ceasar - Tinchel - PhillipDP - Teh Andeh - Peipei - Digital_Genesis - Hushicho - Sad Demon Comics - JediAnn Solo - Kiddermat - BitterBadger - Palouka - cheeko - Paneltastic - L.C.Stein - Zombienomicon - dpat57 - Bravo1102 - The Jagged - LoliGen - OrcGirl - Miss Judged - Fallopiancrusader - arborcides - ChipperChartreuse - Mogtrost - InkyMoondrop - jgib99