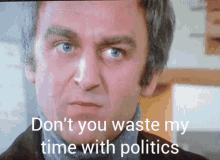 So, fair warning, I was dead tired last night and forgot to write the blog post. I am slightly drunk now, so I've got no inhibition whatsoever. And I'm going to talk about whatever comes to mind. So, big shocker for anyone who knows me, I want to talk about politics.

Politics in stories. Politics in comics. The debate of "now you turned it political" or "you just worry about THE MESSAGE" that gets hurled left and right when a movie hits the cinemas (or streaming) or when the newest DC/Marvel comic makes an appearance on the shelves.

Keep politics out of my stories, says one side that longs for "better quality stories" and "better quality characters" and for existing characters not to get "bent out of shape for politics".

Comics should be/have always been political, says the other side or opts for the "it's not for you" argument to shut down any discussion about why a story might potentially be bad.

Note I'm saying 'story' because usually the gripes are mostly on the narrative/character design/world building/ internal validity of the world in comics and movies rather than cinematography or anything else (and when that is the gripe, it eventually devolves into the former or is irrelevant for this post).

So which is it?

I would argue that there is NO story that is not political. Every story has politics ingrained simply because to write a story you need:
a. worldbuilding
b. plot
c. interaction of the characters with their environment and world
d. problems and solutions that carry the plot forward.

All of these elements are basically governed by politics. Take Superman. What character is more political than him!? His frigging motto was "truth, justice, and the American way"! How is that not a walking, talking, flying, eye-laser-beaming avatar of 1930s, 40s, 50s, 60s American politics? The American way and the American Dream that goes with it was a battery of tennets and ideas closely intertwined with USA politics and mainstream positions on how people should live their life, in what system they should live it, and what they should be considering a threat (usually Communism ).

Ergo, we can easily conclude that the nostalgic Superman comics of the golden age were distinctly political, despite being mainstream and despite being extremely popular in the rough demographic that now calls for politics to be stripped from comics.

Superman is not a singular example, either. Comics have always been used for the expression of highly politicised ideas and positions, from Betty Boop to TinTin (just take a look at the panel of the main characters' plane landing in the Land of the Picaros and the panel of them taking off to leave the Land of the Picaros after the adventure is done, for a salient example).

So, what I'd argue (and probably die on that hill) is that there's no way for any story, no matter how innocent it might look, to be devoid of politics. Even children's stories meant to teach kids "stranger danger" are deeply political, as agents of a social situation that resorts to teaching children to defend themselves rather than society protecting them instead. Let alone children stories that teach children the norms of their society…

On the other hand, beyond the political facet of stories, there's also the creative one. You can have a story carrying political messages that is simply crap- no plot to speak of, cardboard characters, little internal validity to the world rules, etc. And there is a trend where the story's message is used as a shield to deflect criticisms on the creative front, in movies or comics that are mass produced as a cash-grab and bait to certain demographics, using notoriety as cheap advertisement in the meantime.

So what's the bottom line? What should we take from my slightly uninhibited, tipsy rant-esque post?

I won't tell you that, I'm not your mom!

But what I would suggest is to:
a. Stop whining about politics in comics and stories. They've always been there and it's impossible to take them out of a story and still have it be a story.
b. Don't immediately assume that someone who is complaining about "the politics" is a bigot. They might be, but they may also have a point on the creative value of the story. Political stories can be fascinatingly engaging, or they can be a preachy boring mess where nothing makes sense. If it's the latter, then own up to it rather than throw ad hominem attacks left and right to pretend the criticism isn't legitimate. If it's not the latter, present your arguments, and then assess if the person's real problem is "The Message".

Yeah, that.

Don't forget you can now advertise on DrunkDuck for just $2 in whichever ad spot you like! The money goes straight into running the site. Want to know more? Click this link here! Or, if you want to help us keep the lights on you can sponsor us on Patreon. Every bit helps us!

Special thanks to our patrons!!






Justnopoint - Banes - RMccool - Abt_Nihil - PhoenixIgnis - Gunwallace - Cdmalcolm1 - PaulEberhardt - dragonaur - Emma_Clare - FunctionCreep - Eustacheus - SinJinsoku - Smkinoshita - jerrie - Chickfighter - Andreas_Helixfinger - Tantz_Aerine - Epic Saveroom - Genejoke - Davey Do - Spark of Interest - Gullas - Damehelsing - Roma - NanoCritters - Scott D - Bluecuts34 - j1ceasar - Tinchel - PhillipDP - Teh Andeh - Peipei - Digital_Genesis - Hushicho - Sad Demon Comics - JediAnn Solo - Kiddermat - BitterBadger - Palouka - cheeko - Paneltastic - L.C.Stein - Zombienomicon - dpat57 - Bravo1102 - The Jagged - LoliGen - OrcGirl - Miss Judged - Fallopiancrusader - arborcides - ChipperChartreuse - Mogtrost