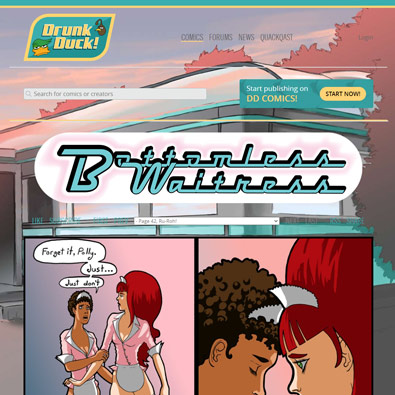 Site redesign update, NEWS!

Alexey has actually implemented not only the new templates now but he's a carried across the user customisations on comic page templates! This follows my revisions to Em's designs for the new standard template and my designs for how they'd work with user mods. It's not quite 100% yet, I'd like to get rid of the "publish a comic" button on there haha, I think it's good to have something that points to that utility but I think that button is intrusive on people's comic pages in that form, especially on mobile phones- it takes up a lot of room on a small screen. Open to suggestions please!

Check it out! Here are some examples:
https://next.theduckwebcomics.com/Pinky_TA/
https://next.theduckwebcomics.com/Bottomless_Waitress/
https://next.theduckwebcomics.com/Essay_Bee_Comics_Presents_Fusion/
https://next.theduckwebcomics.com/simply_sarah/

You can see more by clicking the comics on the front page of the test site https://next.theduckwebcomics.com/. Let us know what you think of the implementation of the new template with the comics. - the user links haven't been done yet but they will be :)

In other news Alexy has also been working to unify the comments systems so comments on newsposts and comics and things will all work the same way, incorporating replies and things. So you can be notified of replies on any comment, not just on comics. That should be super useful!

The previous update is here - https://www.theduckwebcomics.com/news/2023/mar/15/dd-update-post-17th-of-march/.
Comments and feedback welcome and needed as always!


____________

Don't forget you can now advertise on DrunkDuck for just $2 in whichever ad spot you like! The money goes straight into running the site. Want to know more? Click this link here! Or, if you want to help us keep the lights on you can sponsor us on Patreon. Every bit helps us!

Special thanks to our patrons!!









Justnopoint - Banes - RMccool - Abt_Nihil - Gunwallace - PaulEberhardt - Emma_Clare - FunctionCreep - SinJinsoku - Smkinoshita - jerrie - Chickfighter - Andreas_Helixfinger - Tantz_Aerine - Genejoke - Davey Do - Gullas - Roma - NanoCritters - Teh Andeh - Peipei - Digital_Genesis - Hushicho - Palouka - cheeko - Paneltastic - L.C.Stein - dpat57 - Bravo1102 - The Jagged - LoliGen - OrcGirl - Miss Judged - Fallopiancrusader - arborcides - ChipperChartreuse - Mogtrost - InkyMoondrop - Jgib99 - Hirokari - Orgivemedeath Ind - Mks Monsters - GregJ