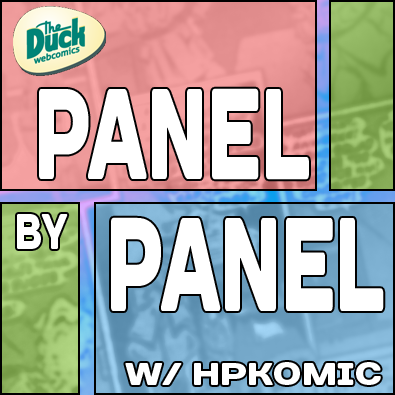 Hello everyone, and welcome to Panel by Panel, a periodic exploration of comic panels around The Duck. This week we are checking in with the scavenger hunt launch in the last post, where I asked you to find specific examples of a panel in your work, and we have some results to share!

Specifically, we sought examples of the full figure, open-panel concept. This includes a figure against what is basically a void, which can look quite interesting. Specifically, here was the example from Wally Wood's "22 Panels That Always Work" that kicked off the scavenger hunt: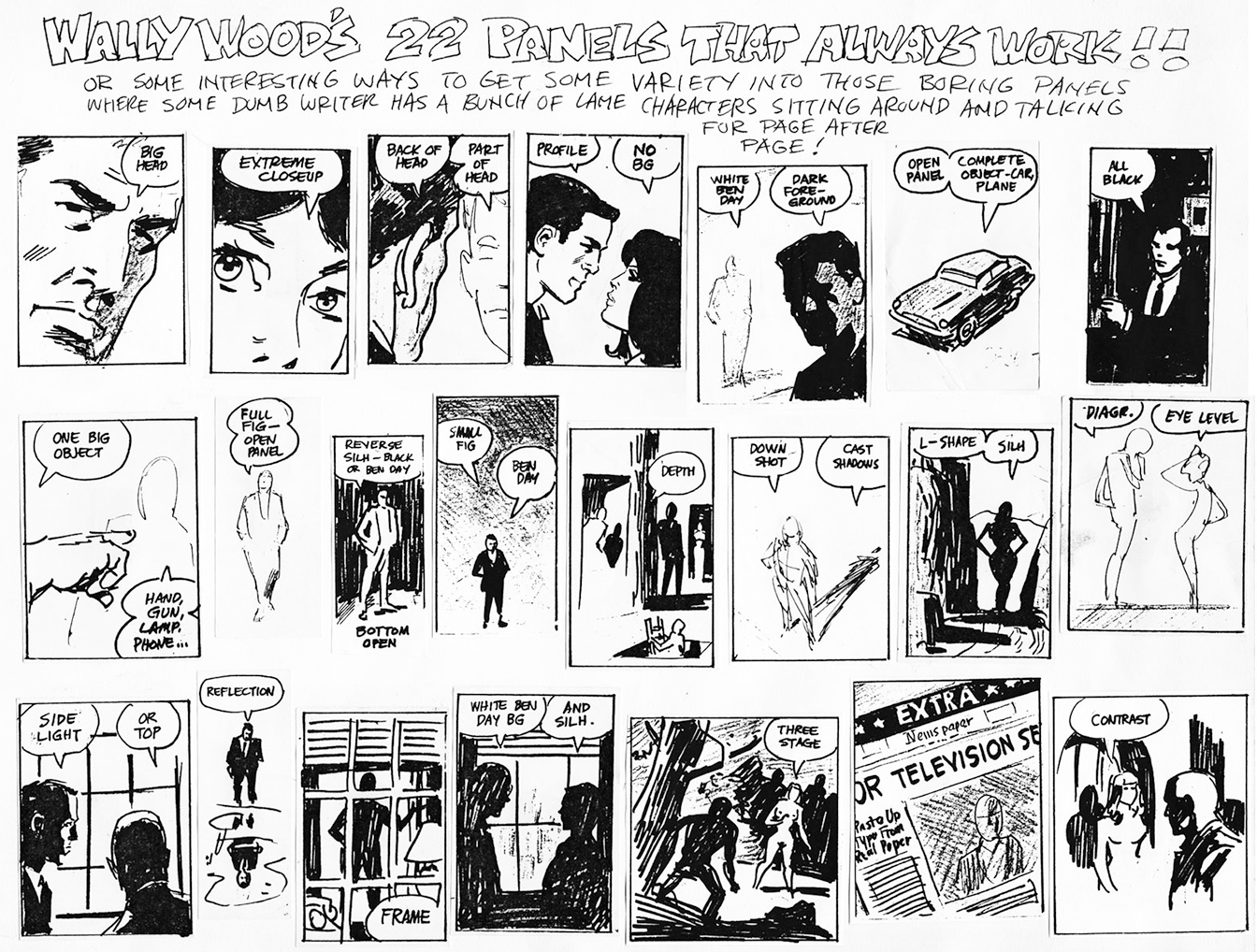 So, with that, what examples did we have from the community?

First, we have a very traditional take on the panel style from Android Blues. I only cropped a portion of the whole panel, but this is certainly a classic example of what this panel does; the full emphasis on the figure.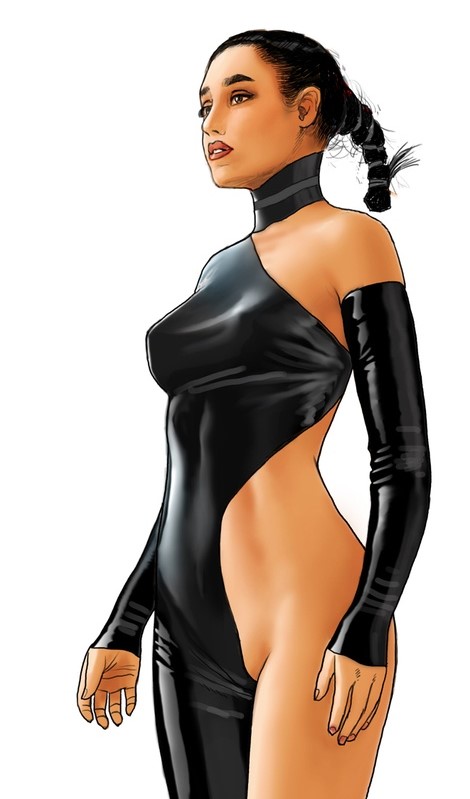 Given the more erotic nature of the comic, the full figure emphasis, combined with the outfit, definitely catches the eye.

Next, we have an example from Tangled River. Here we see it is a fairly small panel in service to dialogue delivery, but it works thanks to the novelty of not including panel borders. That said, the background color is different from the page, which creates a border anyway, but I argue it still works.





Again, the emphasis here is on the dialogue, so the floating figure does a job and does it well here.

Next up, from the comic Odd Days, we have a combination of a figure and a prop. Again, emphasis on the two; no need for a background. However, the implied background from the cast shadow is a nice touch and adds much depth to what is essentially void.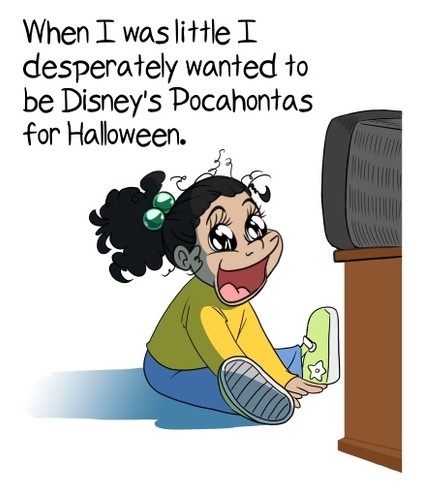 Another solid example. Good stuff.

Lastly, we have this panel from Elmwych that features two figures in a full-body shot, entangled. The emphasis here is definitely on the closeness of the characters. There is an awkwardness to the tangle and the layout; the horizontal layout is not one we normally associate with seeing the full length of a person.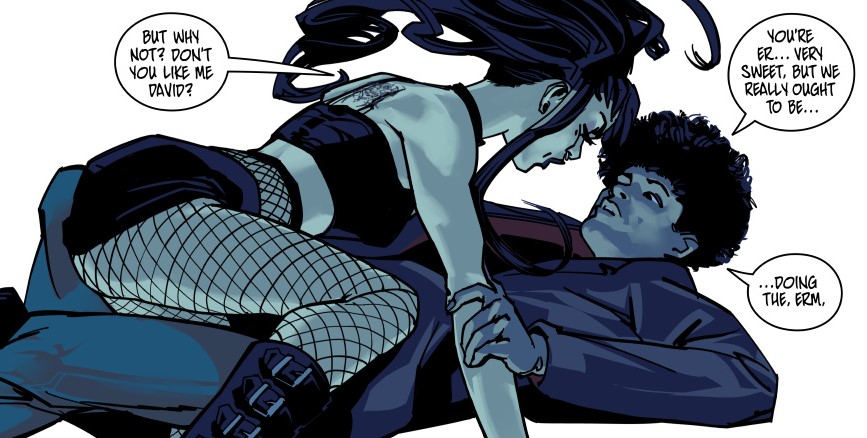 So thanks to everyone for throwing some panels my way for this. I am sure there are even more examples we could dig up easily. We'll do another scavenger hunt in the future, but for now, we will return to some panel analysis in our next installment.
____________

Don't forget you can now advertise on DrunkDuck for just $2 in whichever ad spot you like! The money goes straight into running the site. Want to know more? Click this link here! Or, if you want to help us keep the lights on you can sponsor us on Patreon. Every bit helps us!

Special thanks to our patrons!!









Justnopoint - Banes - RMccool - Abt_Nihil - Gunwallace - PaulEberhardt - Emma_Clare - FunctionCreep - SinJinsoku - Smkinoshita - jerrie - Chickfighter - Andreas_Helixfinger - Tantz_Aerine - Genejoke - Davey Do - Gullas - Roma - NanoCritters - Teh Andeh - Peipei - Digital_Genesis - Hushicho - Palouka - cheeko - Paneltastic - L.C.Stein - dpat57 - Bravo1102 - The Jagged - LoliGen - OrcGirl - Miss Judged - Fallopiancrusader - arborcides - ChipperChartreuse - Mogtrost - InkyMoondrop - Jgib99 - Hirokari - Orgivemedeath Ind - Mks Monsters - GregJ