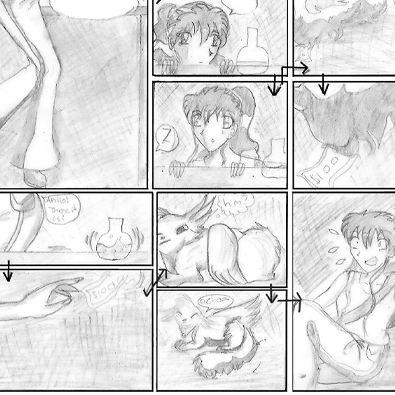 I'm back! It's been a hot minute hasn't it? I'll be taking over a blog spot once a month for a while. And for today I have a very interesting topic (hopefully!).

Recently, I have been helping out with the improvements to the site here. As part of my research, (and by research I mean falling down rabbit holes) I found myself exploring the old Drunkduck website using the Wayback machine. This was also, in part, inspired by hbomberguy's video on CTRL+ALT+DEL that not only featured the site, but also my my amazing webcomic Dragon Crest at lucky number 11.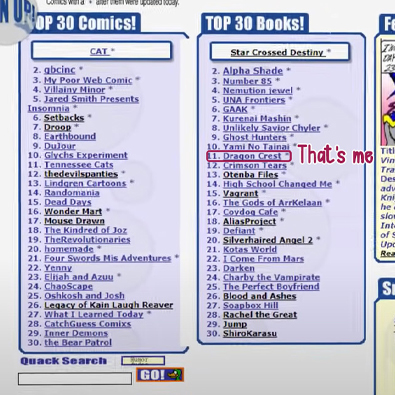 Uncovering my old comic was such a good nostalgia trip. It was interesting going back and reading all my old post entries and comments. The amount of times my 14 year old self had forgotten to do their homework because they were drawing comics had me scratching my head wondering how on Earth I had gotten anything done at school.

What was heartwarming to see, was how much progress I had made since then. For one thing I no longer need to include arrows in my pages to tell people which panels they should be reading. Oftentimes, we creators can't see the progress. It's incremental. We add a little bit of progress each day. The changes can be so small, they become easy to miss.

If you're feeling burnt out or down on your comic, take some time to go back and reread your work. Uncover old pages, old stories, old art. This is where you'll see how far you've come.

Have you kept any of your old comics? Would you ever reboot old story ideas? Let us know in the comment section below! And join us on Sunday evening for our Quackchat at 5:30PM(EST)!

Don't forget you can now advertise on DrunkDuck for just $2 in whichever ad spot you like! The money goes straight into running the site. Want to know more? Click this link here! Or, if you want to help us keep the lights on you can sponsor us on Patreon. Every bit helps us!

Special thanks to our patrons!!










Justnopoint - Banes - RMccool - Abt_Nihil - PhoenixIgnis - Gunwallace - Cdmalcolm1 - PaulEberhardt - dragonaur - Emma_Clare - FunctionCreep - Eustacheus - SinJinsoku - Smkinoshita - jerrie - Chickfighter - Andreas_Helixfinger - Tantz_Aerine - Epic Saveroom - Genejoke - Davey Do - Spark of Interest - Gullas - Damehelsing - Roma - NanoCritters - Scott D - Bluecuts34 - j1ceasar - Tinchel - PhillipDP - Teh Andeh - Peipei - Digital_Genesis - Hushicho - Sad Demon Comics - JediAnn Solo - Kiddermat - BitterBadger - Palouka - cheeko - Paneltastic - L.C.Stein - Zombienomicon - dpat57 - Bravo1102 - The Jagged - LoliGen - OrcGirl - Miss Judged - Fallopiancrusader - arborcides - ChipperChartreuse - Jaybiejay