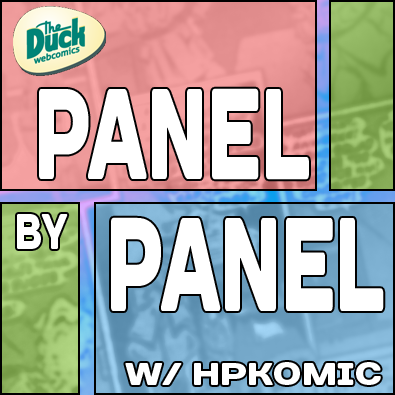 Hello everyone, and welcome to Panel by Panel, a periodic exploration of comic panels around The Duck. This week I wanted to try something different. I'd like to ask you all some questions. I have plenty more panel analysis articles, but I also want to mix things up.

I have made a tidy little nest for myself here on the Duck. I've been here off and on since the early days, and I've always found the community here to be pretty welcoming. I always strive to give back where I can. I found Panel by Panel a fun way to do this, but I think I can do more.

So, I will ask you two questions and appreciate your responses.

First, this is a general question about your comic process: How do you decide on your panels? This is a big question, so let me add to this a bit more: do you envision your stories in the language of film? Do you have some go-to panel types you use? Do you see something you like and want to borrow? What is your thought process when figuring out how a panel will look? You can even give us a specific panel and explain how it came about.

I know it's a lot, and it may sound like me asking you to articulate the inarticulable. But I think there is some value in explaining ourselves in our own terms.

That leads to my second question: would you be interested in design challenges? Periodically, Panel by Panel would present a panel prompt or style, and you find examples of that in your own work to share or try drawing it in your update that week. If you have done the panel before in your work, excellent. If you haven't, try it that week, or draw a one-off panel for practice. I can then share those results in a later article.

I love seeing responses to my posts, and I feel like making this more interactive could be interesting. But what do you think?

I will continue to find panels on different comics and spotlight them as I have been. But I would like to branch out every once in a while. As readers, you should have some say in this, after all.

Lastly, a little shameless self-promotion: I have launched a webcomic discussion hashtag on Mastodon called Webcomic Talk. There was a lack of that sort of thing on the platform, so I took the initiative to start one. We recently did our first talk, but I invite you to join us at the next one. The questions are posted on Wednesdays.

Okay, that's it on my part. Thanks for reading!

____________

Don't forget you can now advertise on DrunkDuck for just $2 in whichever ad spot you like! The money goes straight into running the site. Want to know more? Click this link here! Or, if you want to help us keep the lights on you can sponsor us on Patreon. Every bit helps us!

Special thanks to our patrons!!









Justnopoint - Banes - RMccool - Abt_Nihil - PhoenixIgnis - Gunwallace - Cdmalcolm1 - PaulEberhardt - dragonaur - Emma_Clare - FunctionCreep - Eustacheus - SinJinsoku - Smkinoshita - jerrie - Chickfighter - Andreas_Helixfinger - Tantz_Aerine - Epic Saveroom - Genejoke - Davey Do - Spark of Interest - Gullas - Damehelsing - Roma - NanoCritters - Scott D - Bluecuts34 - j1ceasar - Tinchel - PhillipDP - Teh Andeh - Peipei - Digital_Genesis - Hushicho - Sad Demon Comics - JediAnn Solo - Kiddermat - BitterBadger - Palouka - cheeko - Paneltastic - L.C.Stein - Zombienomicon - dpat57 - Bravo1102 - The Jagged - LoliGen - OrcGirl - Miss Judged - Fallopiancrusader - arborcides - ChipperChartreuse - Jaybiejay - Chris_tar - Mogtrost - InkyMoondrop - Jgib99 - Hirokari - Orgivemedeath Ind - Mks Monsters - GregJ